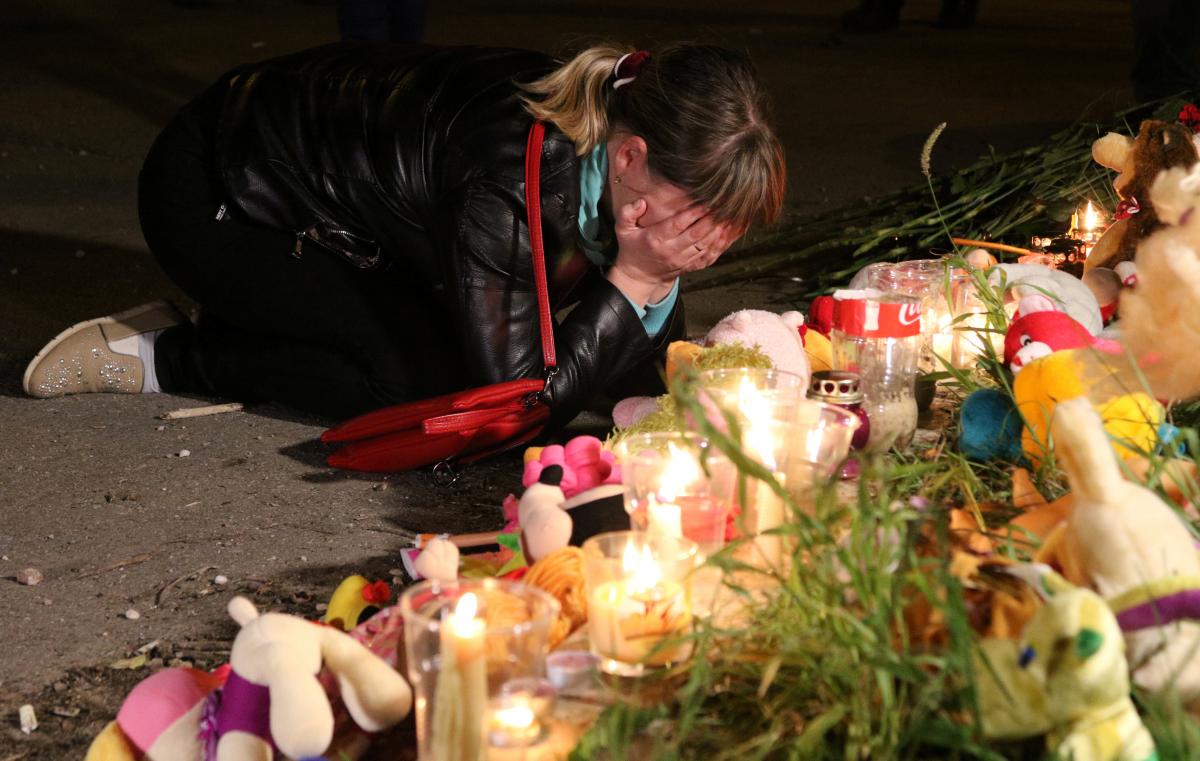 REUTERS
All the victims of a shooting rampage at a technical college in Ukraine's Moscow-annexed Crimea region have been identified, with some of the critically wounded being airlifted to hospitals in Russia, authorities say.
Twenty-one people were killed, including the suspected shooter, and scores were wounded in the October 17 shooting spree at a technical college in Kerch, according to Radio Liberty.
Russian investigators identified the suspected killer, who they say also shot himself dead, as Vladislav Roslyakov, an 18-year-old student at a technical college in the Crimean city.
Kerch's deputy mayor, Dilyaver Melgaziyev, said on October 18 that all the victims had been identified, adding that 15 of them were students, and six of them were younger than 18, while the other five victims were college employees.
Russian Health Minister Veronika Skvortsova said earlier that a total of 70 people were wounded in the attack, and 10 of them were in a critical condition, including five who were in a coma.
Read alsoCrimea college attack: Death toll grows to 21 people
Skvortsova told Russian news agencies on October 18 that the authorities were preparing to airlift at least 10 severely wounded people to top Russian hospitals for surgery. Dozens more remain hospitalized in Kerch.
The Russia-imposed head of Crimea, Sergei Aksyonov, told Russian news agencies that the first victim will be buried later on October 18.
Authorities and eyewitnesses say a teenager walked calmly through the Kerch polytechnic school shooting people seemingly indiscriminately with a shotgun before committing suicide.
Aksyonov described Roslyakov, a fourth-year student, as a shy boy who had no known friends and a good record in school.
"What he published on his [social media] account was not open to the public. Access to his account was restricted; he didn't have any friends," Aksyonov told Rossia-24 television.
"He wasn't aggressive, he was rather timid," Aksyonov said, speculating that Roslyakov might have "watched some movies" that inspired him to go on the shooting spree.
"He was walking around and shooting students and teachers in cold blood," Aksyonov said.
The announcement that the shooter was a student who acted alone came after hours of shifting explanations as to what happened at the school, with investigators initially saying it might have been a terrorist attack.
In the immediate aftermath of the incident, the authorities declared an emergency in Crimea and Russia sent National Guard troops to protect schools and a new 19-kilometer bridge connecting Crimea with Russia.
Read alsoKerch bomber identified
The attack was the greatest loss of life in school violence in Russia since the Beslan attack by Chechen separatists in September 2004, in which 333 people, many of them children, were killed during a three-day siege.
While such school shootings are rare in Ukraine and Russia, which illegally annexed Ukraine's Crimean Peninsula in 2014, AP reported that the bloodbath raised questions about school security, as the Kerch school had only a front desk with no security guards.
Some witnesses said more than one person was involved, with one saying a bomb with shrapnel that went off in the school lunchroom during the siege was set off by a second attacker.
But Aksyonov said Roslyakov made the bomb himself and set it off while using a shotgun he recently acquired and 150 cartridges he bought just a few days ago to conduct his deadly shooting spree.
Aksyonov said Roslyakov had recently received a permit to own the shotgun after passing routine background checks.