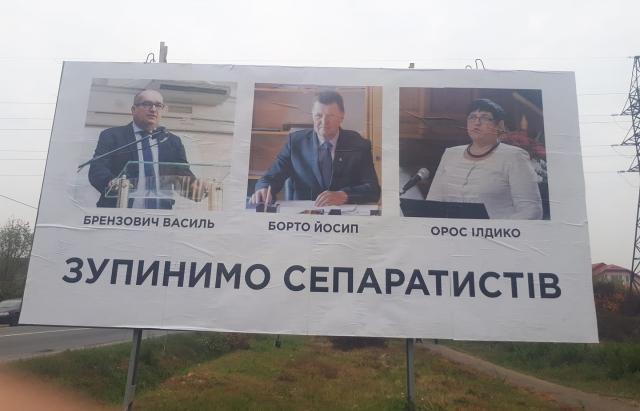 Mukachevo.net
The police have opened criminal proceedings into the illegal placement of "Let's stop the separatists" billboards in several villages of Ukraine's Zakarpattia region.
"It was established that unknown individuals put up billboards with provocative content in several villages overnight October 20. Persons complicit in the crime are being searched for. Further pre-trial investigation is underway," the press service of the Prosecutor's Office in Zakarpattia region reported on October 21.
A criminal case was opened under Part 1 of Article 161 of the Criminal Code of Ukraine "Violation of citizen equality on the grounds of their race, nationality or religious beliefs."
The charge entails a fine of 50 tax-free minimum individual incomes or correctional labor for up to two years, or imprisonment for a term of up to five years, with deprivation of the right to occupy certain positions or engage in certain activities for up to three years or without such.
Read alsoProvocative billboards spotted in Zakarpattia amid row with Hungary
As was earlier reported, on Saturday, a number of billboards calling to "stop the separatists" were put up in Ukraine's Zakarpattia region with photos of the three leaders of the Hungarian community and anti-Hungarian calls.
The regional state administration reported that the ads were placed by unknown individuals and without relevant permits.
Ukrainian Foreign Minister Pavlo Klimkin commented on the incident on Twitter: "As soon as I just said about the expected provocations in Zakarpattia, those billboards mysteriously emerged there almost immediately, condemning alleged Hungarian separatism. It is important not only to condemn [the provocation], but also to find out who stands behind this."
Chairman of the Zakarpattia Regional State Administration, Hennady Moskal, called the emergence of billboards a primitive provocation of Russian special services, adding that law enforcement officials are searching for culprits who had placed them.
Hungarian organizations of Zakarpattia claimed that the incident was another evidence of an "anti-Hungarian campaign" in Ukraine.