Yanukovych associate buys former president's house in Kyiv
The new owner of a house located on Kyiv's Obolon waterfront, formerly one of the residences of ousted Ukrainian President Viktor Yanukovych, is reported to be Artur Rostomyan, an associate of the former president, according to the State Register of ownership rights to real property.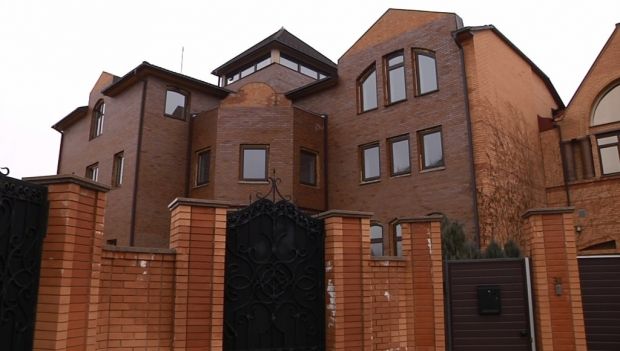 Photo from Nashi Hroshi
A sale and purchase agreement for the house was signed on October 2, 2014 and certified by notary Olena Petritska. According to documents discovered in the former president's residence Mezhyhiria last winter, Petritska served as a notary for the Mezhyhiria group of companies, Ukrainian Web site Nashі Hroshі (Our money) has reported.
There is no information about the house on the state registration of encumbrances, implying that no property seizure order has been issued.
Until October last year, the documents for the land and house on the waterfront were issued to LLC Kyivbudzhitlo, which is known to have always been owned by LLC House of Forester, that also owned the documents for a land plot near Sukholuchchia – Yanukovych's hunting grounds in the Dnipro-Teterivska forest. Notably, LLC House of Forester also supplied valuable materials for the development of Mezhyhiria.
The new owner of the house on the Obolon waterfront is also associated with the forest hunting grounds of the ex-president. According to Nashі Hroshі, Artur Rostomyan has been registered as living on Sovetskaya Street in the village of Golovanivsk, in a neighboring flat in the same residential block as Vachagan Rostomyan.
The latter is known as the co-founder of the Yarik Hunting and Fishing Club LLC. This hunting club was founded by Vachagan Rostomyan together with Major-General Konstantin Sapko, the head of the Main Department of the Internal Affairs Ministry in Kyiv region, during the rule of overthrown ex-President Viktor Yanukovych. The name of Sapko's son was found on the member list of the Ceder presidential hunting club, which in 2012 was granted 30,000 hectares of land near Sukholuchchia.
The ex-president also owned an apartment located at 15/5 on the Obolon waterfront, where Yanukovych was officially registered as living before the presidential elections. After he moved to Mezhyhiria, the houses continued to be maintained by means of the company Tantalit. After Yanukovych fled the country, prosecutors sealed the apartment.
If you see a spelling error on our site, select it and press Ctrl+Enter