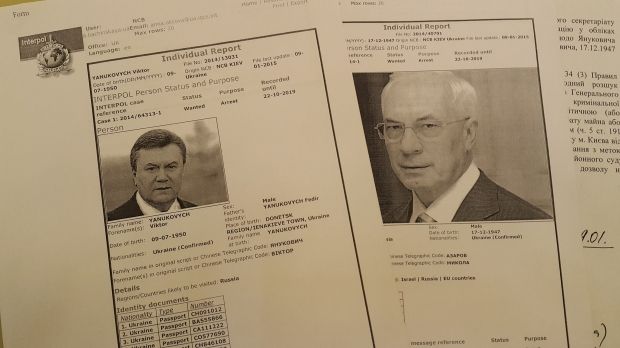 Photo from Arsen Avakov's Facebook page
"The International Criminal Police Organization, or INTERPOL, has announced an international search or red card-detention for extradition to Ukraine of the following persons: [former President] Viktor Yanukovych,[the president's son] Oleksandr  Yanukovych, [former Premier] Mykola Azarov, [former Health Minister Raisa Bohatyriova, Yuriy Kolobov, who is the former Minister of Finance of Ukraine, and Heorhiy Dzekon, who is the former head of Ukrainian telephone company Ukrtelecom," Avakov wrote.
There are reports that Yanukovych and Azarov have been granted Russian citizenship. If so, there is little chance of their being captured and facing trial in Ukraine, as Russia does not agree to requests to extradite its citizens.