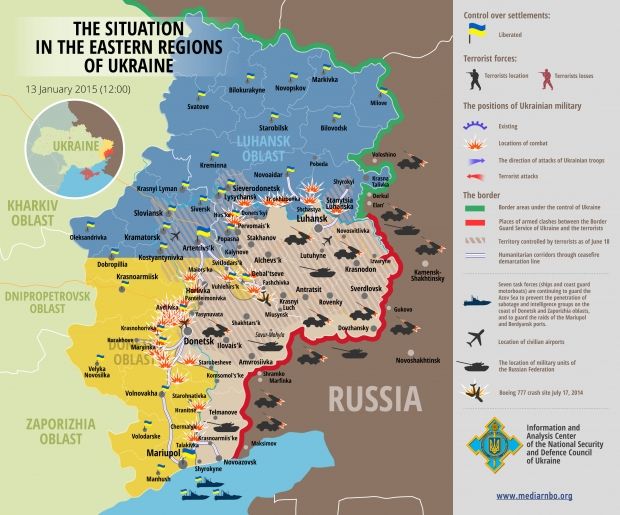 Map from mediarnbo.org
"An increase in the aggressive actions by terrorists in the last few days, and their attempts to change the line of demarcation, suggests that Russian-backed insurgents and the terrorists have deliberately chosen tactics designed to escalate tension in the Donbas," he said.
As reported earlier, on Monday U.S. Ambassador to Ukraine Geoffrey Pyatt said Russian-backed insurgents were attempting to redraw the line of demarcation. He said he had come to this conclusion based on yesterday's NSDC report on the situation in the conflict zone.
The intensity of military clashes in the Donbas conflict area increased dramatically after Christmas, January 7. While on January 1-7 the insurgents fired on Ukrainian troops and villages 10-20 times a day, on the afternoon on January 10 the press center recorded 34 fire attacks. Another 63 cases of attacks on Ukrainian positions were reported as having been carried out on January 11, and on January 12 the militants attacked Ukrainian armed forces and villages in Donetsk region 58 times, according to the Ukrainian military.