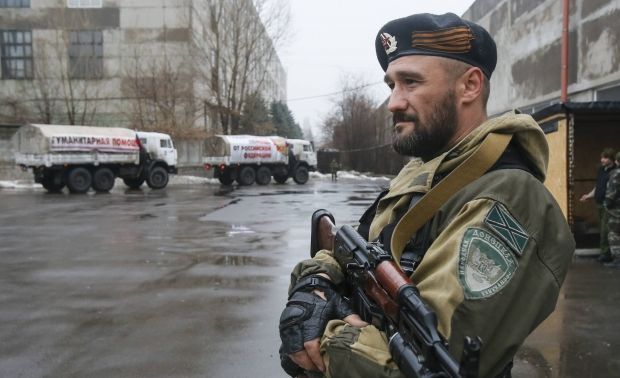 REUTERS
"There have been 84 attacks on Ukrainian army positions by Russian-backed insurgents in the last few days," Turchynov said.
"This is a record number since the beginning of the year, and it doesn't coincide by chance with the arrival of another so-called Russian humanitarian convoy," he said.
"The intensification of attacks usually coincides with the crossing of the uncontrolled part of the border of the so-called Russian humanitarian convoys, which replenish the firing power of the Russian-terrorist groups under the guise of bringing humanitarian assistance.
"Such actions by the Russian Federation led to Tuesday's tragedy, when a passenger bus was hit by a shell fired by Russian-backed militants from occupied territory, resulting in the deaths of innocent civilians.
"Such activities by Russia and its 'humanitarian aid' lead to the conscious disruption of any format of peace agreements, and destroy all previously issued guarantees of a ceasefire.
"The killing of innocent people, like the shooting down of the [Malaysia Airlines] Boeing, is more evidence of the brutal nature of Russian policies.
"Such a series of criminal acts requires an appropriate response from Ukraine, and will be investigated by the Hague Tribunal."