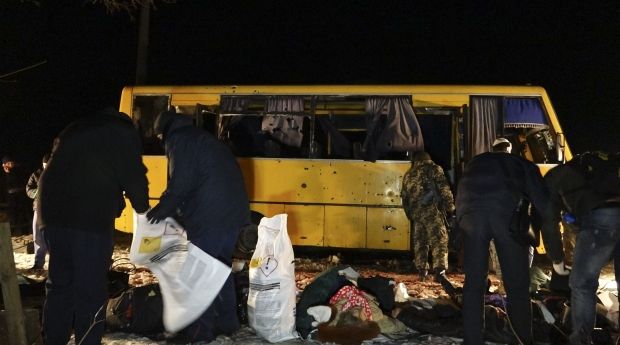 REUTERS
OSCE observers visited the scene on January 13, and they were present when two bodies were taken out of the bus. The place of the rocket blast, according to their estimates, was 12-15 meters away from the bus. Doctors from the hospital in Volnovakha confirmed to the observers that ten passengers were killed at the scene, and two more people died of their injuries in hospital.
At the initiative of the OSCE observers. the co-chairs of the Joint Center for Control and Coordination, major-generals of the armed forces of Ukraine and Russia, and the leaders of the self-proclaimed Donetsk People's Republic have agreed to conduct a joint investigation, which will be led by the joint center, according to the report.
The OSCE mission, in its turn, promises to continue its own observations and to publish its own conclusions about the incident.
According to the Ukrainian security officials, 12 passengers of the bus died and another 17 were wounded, including two Ukrainian soldiers, when the Kyiv-2 checkpoint in Buhas near Volnovakha was shelled by Grad multiple rocket launchers from militant-occupied Dokuchaevsk in Donbas.
The militants, in their turn, said they weren't involved in the attack, and the bus was hit by Ukrainian forces firing Grad multiple rocket launchers at their own checkpoint, or by Ukrainian forces using small arms, or by a directional anti-personnel mine.
However, the shelling of the checkpoint by Grad multiple rocket launchers was recorded by a security camera. According to eyewitnesses, the shape of the crater left by the rocket indicates that it was launched from militant-held Dokuchaevsk.
The militants claims of non-involvement in the attack were made after they first posted in social networks a report of the successful destruction of a Ukrainian checkpoint near Volnovakha. When the reports of the death of civilians appeared, these messages were deleted.