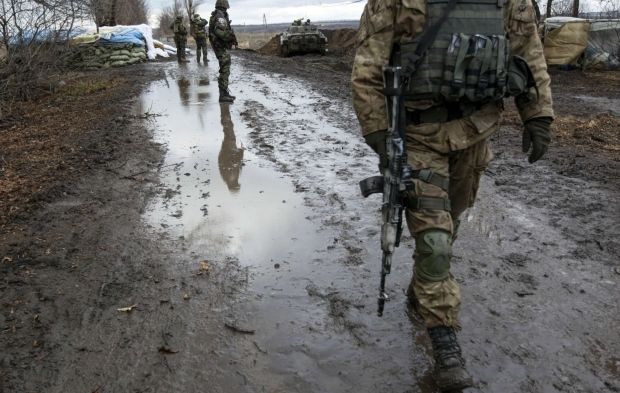 REUTERS
"The situation in the antiterrorist operation zone in Donbas remains difficult," Matiukhin said, according to an UNIAN correspondent.
"Illegal armed groups have increased the number and intensity of their attacks on the positions of Ukrainian forces and civilian settlements," Matiukhin said.
He said from 1800 last night and until Thursday morning, illegal armed groups had opened fire 44 times.
"During the day the highest escalation remained in the area of Donetsk airport and the settlements near it, in the evening the enemy launched attacks from the direction of Luhansk, near the villages of Kryakivka, Verkhnia Vilkhova, Trekhizbenka, Krymske and Stanitsa Luhanska. Starting from 1900, these settlements came under attack 13 times by the militants' Grad multiple rocket launchers."
At the same time, illegal armed groups have not stopped shelling the positions of Ukrainian forces near Donetsk airport. Grad rocket attacks hit the settlements of Tonenke, Krasnogorivka, Bogdanivka and Pisky. Artillery and rocket launchers were deployed by the militants to shell the new terminal at Donetsk airport, with the attack lasting until 0230.
Matiukhin said the Ukrainian military were not going to leave the terminal.
There were also 11 recorded cases of the militants deploying aerial reconnaissance drones, near the villages of Kirovske, Shchastia, Starobilsk, Toshkivka, Talakivka, Sartana, Berdiansk, Stary Aidar, Avdiyivka and Mariupol.
"Despite the difficulties, the situation remains under the control of the Ukrainian military. The intensified attacks of the enemy are being rebuffed, and the latter is suffering losses in manpower and equipment," Matiukhin said.