Defense Ministry: Serious situation at Donetsk airport, militants use tear gas
Russian-backed militants, now into the third day of their attempt to take Donetsk airport, have used tear gas against its Ukrainian defenders, Ukraine's Defense Ministry said on Friday.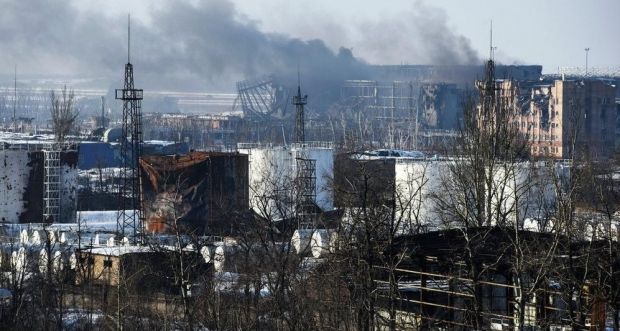 Photo from social media
It said the situation at the airport as of 1500 on Friday was extremely serious.
"In the morning, the terrorists continued to unsuccessfully attack the positions of the Ukrainian soldiers who are heroically maintaining the defense of the terminal," the ministry's press service said.
"At about 1200 hours the militants used a type of tear gas against the Ukrainian troops. The Ukrainian forces are fighting back and continue to hold their positions."
The ministry's press service said the Russian-backed militants had lost a great deal of equipment and manpower during their attacks.
The militants stepped up their attacks on the airport on January 13, attempting to drive Ukrainian troops from the new terminal – the last major building in the airport complex still under government control.
There were reports on Thursday by Russian and some Western media that the airport had finally fallen to the militants, but the Ukrainian side denies this.
National Security and Defense Council spokesman Andrei Lysenko said on Friday that the airport remains under the control of the Ukrainian military. He also said that the soldiers at the airport on Thursday received "all of the necessary assistance."
However, Russian media reports indicate that at least some parts of the shattered shell of the new terminal building at the airport are now controlled by the militants.
Two Ukrainian soldiers were reported to have been killed and another seven wounded in fierce fighting at the airport on Thursday.
If you see a spelling error on our site, select it and press Ctrl+Enter