Kyiv protest action participants beat themselves? (photos)
Police denies that it roughly beat people
"The police began to respond, when protest action participants began to hamper the traffic", chief of the Pecherskiy district police department Serhiy Holubenko claimed to Gazeta Po-Kievski. He pointed out that the police were not beating participants of the protest action against building a 17-storey dwelling house at the territory of Zhovtnevy hospital in the center of Kyiv. According to the police chief, "the picketers were asked to dissolve, but they refused. There was a crush, as a result of which the very action participants injured themselves because of crowd".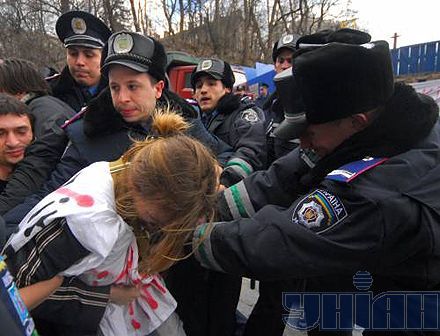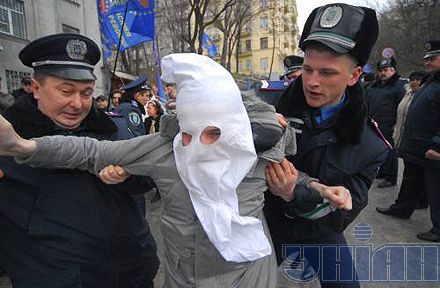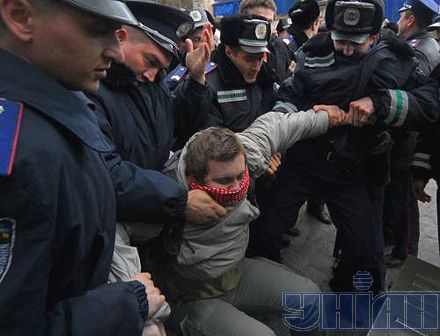 "They twisted my arms and dragged me to a police car", says action participant Oleksander Nahorny. "Simultaneously, they were beating other action participants. Another 30 policemen came to the aid. All of them were really very aggresive", he says.
Andriy Manchuk, journalist of Gazeta Po-Kiyevskiy daily newspaper has intent to initiate a criminal case against Kyiv police for hampering his journalist activities. The journalist was injured at a protest action in Kyiv. Presently he is undergoing a medical treatment in hospital."When I was pushed into the car, I stroke with my head on the car door. They were pushing me until I lost my conscience, after that they pulled me and threw with my face on the asphalt", the journalist said.
Photos by Dmytro Kuprian/UNIAN
If you see a spelling error on our site, select it and press Ctrl+Enter