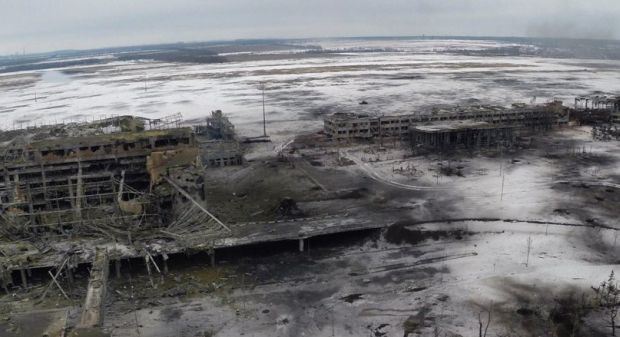 Photo from apostrophe.com.ua
He said that the militants continue to launch attacks on the advanced positions of Ukrainian troops in the region of Donetsk airport, as well as around the villages of Pisky, Opytne and Avdiyivka, in an attempt to prevent reinforcements reaching Ukrainian units fighting on the front line at Donetsk airport, as well as prevent their regrouping.
"The effort to stop the advance of Ukrainian armored vehicles, which resulted in the blowing up of the Putilov overpass [bridge in Donetsk], was due to panic among militia personnel, who were under heavy fire from tanks of a Ukrainian armored group and who were forced to abandon their positions," Tymchuk said.
According to Tymchuk, there are rumors among the militants operating in Donetsk that there are preparations under way for a militant counter-attack in this area.
"An additional artillery group of the enemy has been deployed in the Petrovsky district of Donetsk," Tymchuk wrote.
"In the area of Marinka a battery of self-propelled artillery units was spotted (five 2S1 Gvozdika units), equipped with battery emplacements for 120 mm mortars. In the Kuibyshev region of Donetsk the movement of an armored group (six combat armored vehicles and three tanks) was spotted. Another armored group of Russian-backed terrorist forces (up to 10 armored vehicles, including four tanks) was deployed to the village of Vesele."