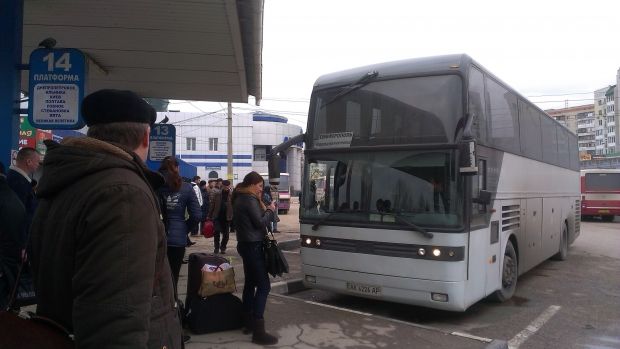 Photo from gromadskeradio.org
On January 20, the publication's Web site received several complaints from readers that the passenger buses were being turned back on Crimea's border with Kherson region in Ukraine.
The publication contacted a Crimean citizen who was on the border in a bus that was traveling to Crimea. He confirmed that passenger traffic in both directions had been suspended.
"Ukrainian border guards are stopping all the buses and sending them back. Nobody can explain the reasons," the bus passenger said.
One of the companies providing bus passenger services to and from Crimea said that, according to the company's information, Ukrainian border guards had received orders to suspend bus traffic from the Ukrainian authorities.
"While earlier the question of the crossing of passengers and goods could be solved with a 'gratuity', now they've been ordered not to allow anyone past," the company said.
The State Inspectorate of Ukraine on the Security of Land Transport told the publication that since December 26, 2014, bus traffic between mainland Ukraine and Crimea had been suspended for the safety of passengers.
On December 27, Ukrainian state railway company Ukrzaliznytsia cut all rail links to the Russian-occupied Ukrainian territory of Crimea and terminated its trains to Crimea at stations in Kherson and Novooleksiivka.