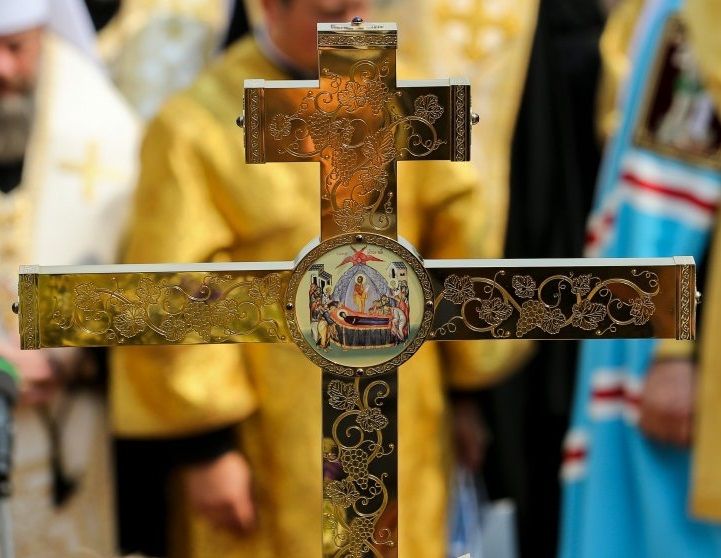 Photo from UNIAN
Large-scale provocations are being plotted in the Orthodox churches of the Moscow Patriarchate in Kyiv, a number of priests claimed.
Patriots from among the priests of the Moscow Patriarchate told the Obozrevatel outlet that they had received anonymous calls with alerts about the "imminent attacks" of "nationalist thugs." Allegedly it is about the seizure of 10 churches across the capital.
However, according to Obozrevatel's own sources, it is pro-Russian forces that under the guise of "nationalists" are planning the attacks. The group is led by a former deputy of the Kyiv regional council (member of a pro-Yanukovych party) Yuriy Tsykalenko, more commonly known in criminal circles as "Yura Kachok." On condition of anonymity, the priests told Obozrevatel that he is responsible for the physical protection of Kyiv-Pechersk and Pochayiv Lavras.
Read alsoHoly Council of Ukraine's Orthodox Church scheduled for December – Ecumenical Patriarchate
According to media reports, in the days of the Euromaidan protests, Tsykalenko led groups of the so-called "titushki" (hired thugs) who committed attacks on activists.
It is known that Yuriy Tsykalenko in 2014 resigned as a deputy of the Party of Regions and left for Moscow. However, after the criminal cases against him were suddenly closed, he returned to Kyiv.
Prosecutor General of Ukraine Yuriy Lutsenko stated earlier that in Tsykalenko's CV there is a whole chain of acts falling under various articles of the Criminal Code. "It seems that this is one of the brightest representatives of the 'Sicilian mafia'," Lutsenko noted.
Read alsoPutin's ex-advisor comments on Russia's possible reaction to Ukraine church independence
As reported earlier, the UOC of the Kyiv Patriarchate warned about provocations in connection with the imminent receipt of the tomos of autocephaly by a Church of Ukraine.
On Saturday, November 17, in Kryvyi Rih, a group of unidentified perpetrators organized provocations outside the residence of Metropolitan Yefrem of Kryvyi Rih and Nikopol (UOC MP), trying to break and enter into his house.