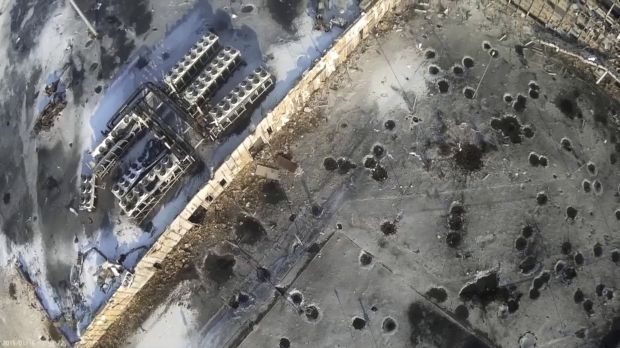 REUTERS
"Some of the buildings and a part of the territory of the Donetsk airport are under the control of Ukrainian military," the report reads.
"As of this moment, the battle for Donetsk airport is still continuing. Our soldiers continue to protect some of the buildings," Acting Speaker of the General Staff of Ukraine Vladyslav Selezniov said.
He said that the building of the new terminal had been almost completely destroyed because of the constant shelling on the positions of the Ukrainian defenders at the airport.
"Due to the fact that the terminal had been shot through by direct fire, last night it was decided to withdraw from the territory of the terminal to new frontiers," Selezniov said.
Answering the question of the reporters on which objects were under control of the Ukrainian forces, Vladyslav Selezniov said that Ukrainian soldiers were at certain sites and objects on the territory of Donetsk airport.
"The runway has been completely ruined," he said.
"The Ukrainian military are now carrying out a range of measures to retain control over certain objects," he added.
As UNIAN reported earlier, according to the chief editor of the Ukrainian online news service Tsenzor.NET Yuriy Butusov, Donetsk airport has been completely destroyed in fighting between Ukrainian forces and Russian-backed militants.
Early on Thursday morning, a voluntee unit, the Azov Battalion, said Ukrainian forces had been forced to leave the territory of Donetsk airport.