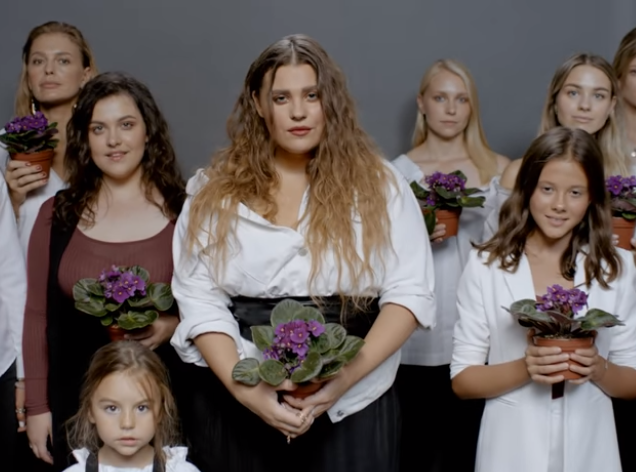 Snap from video
Scientists representing Ukraine's National Nature Museum, which is part of the National Academy of Sciences, have made an unexpected revelation as regards the recent pride of the Ukrainian musical scene, the KAZKA band and, in particular, their clip to the bomb hit "Plakala," which has collected over a hundred million views on YouTube so far, along with a lyric video.  
"It's not actually a viola flower in the video," scientists wrote in a Facebook post, referring to a flower that is in the song's main focus and appears in the music video. The first line in the chorus literally says "I've cried but the viola is blooming, again."
The video stars a flower called Saintpaulia, the experts say, adding that it does not even belong to the Violaceae family. "It represents the Gesneriaceae family, whose species do not grow in Ukraine's wild, "the report says.
Scientists noted that Saintpaulia grows in Africa. "It can be found near waterfalls and turbulent rivers of Tanzania and Kenya," they wrote.
Of course, it does not matter which kind of flower the artists bore in mind," the scientists concluded, praising the band's brilliant success story. "The main thing is that we maintain critical thinking and yearn for new knowledge."
This way, scientists apparently used a highly acclaimed song to attract people's attention to what they love most -- nature and environment.
As reported earlier, "Plakala" by KAZKA, initially released in May 2018, became the first Ukrainian-language song that hit Shazam's TOP 10 global chart.
Social networks are flooded with covers on Plakala, performed by non-Ukrainian speakers, mostly from Kazakhstan, Russia, and Belarus, while the band has been gathering more and more fans worldwide.
UNIAN memo. Shazam is an application developed by Shazam Entertainment Ltd. The application can identify music, movies, advertising, and television shows, based on a short sample played and using the microphone on the device. On 24 September 2018, Shazam Entertainment Ltd. was bought by Apple Inc.