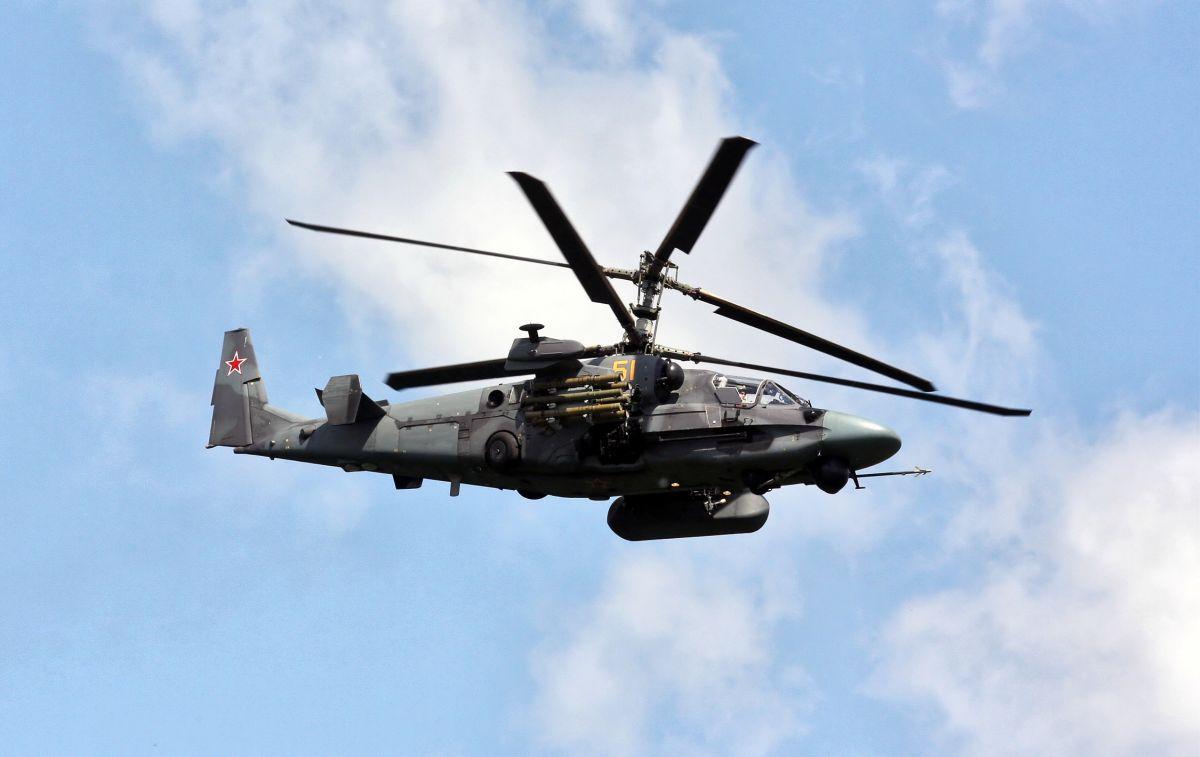 Two Ka-52 attack helicopters have been scrambled / Photo from Vitaly V. Kuzmin / wikipedia.org
Russia has blocked the passage to the Kerch Strait between the Sea of Azov and the Black Sea for civilian ships after the 'Yany Kapu' (Yani Qapi) tugboat of Ukraine's Navy was rammed by a Russian coast guard ship in the Sea of Azov on Sunday morning.
"At 13:12 local time, two Ka-52 attack helicopters were spotted as heading for an attack course with their onboard weapon control systems aimed at the Ukrainian Navy's boats," the press service of the General Staff of the Navy of the Armed Forces of Ukraine said on Facebook on November 25.
The Ka-52 Alligator is an all-weather attack helicopter operated by the Russian Air Force. It was developed by Kamov Design Bureau (part of Russian Helicopters) as a twin-seat model of the Ka-50 attack helicopter.
The ships of the Ukrainian Navy have been waiting for several hours to pass through the Kerch Strait, the press service said.
Read alsoUkraine's Foreign Ministry: Provocations of Russia in Black and Azov Seas cross the red line
As of 13:42 local time, traffic on both sides of the Crimean bridge was reportedly blocked in connection with a tanker stranded in front of the bridge in the Sea of Azov, according to the Kerch traffic control system, it said. However, this report has not yet been confirmed by the international shipping control system, the Ukrainian side added.
As UNIAN reported earlier, the 'Yany Kapu' (Yani Qapi) tugboat of Ukraine's Navy was rammed by a Russian coast guard ship in the Sea of Azov on November 25, when a group of Ukrainian vessels, namely two small-sized 'Berdiansk' and 'Nikopol' armored artillery boats and the 'Yany Kapu' tugboat were carrying out a planned transfer from the port of Odesa to the port of Mariupol of the Sea of Azov.
The Ukrainian side said notification about the transfer plans had been done in advance in accordance with international rules to ensure safe navigation. In turn, the FSB of the Russian Federation accused the Ukrainian ships of "illegally crossing the Russian border."
According to information available, the Yany Kapu's crewmen were not injured during the ramming incident.
The press service of the Ukrainian Navy assured that the Ukrainian ships were heading to the port of Mariupol despite the Russian Federation's acts of aggression.
The Ukrainian Foreign Ministry stated that the provocative actions by the Russian Federation in the Black Sea and the Sea of Azov had violated the norms of the UN Charter and the UN Convention on the Law of the Sea.