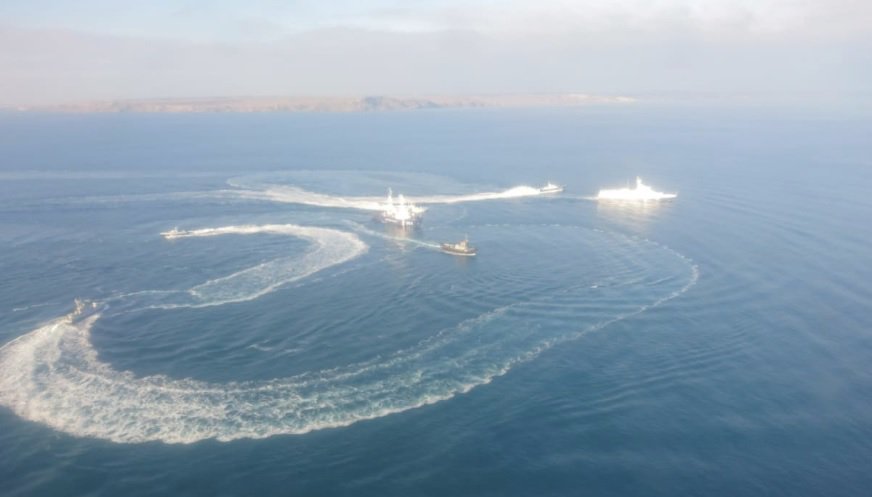 Two small-sized armored artillery boats and a tugboat did not manage to enter the Sea of Azov / Photo from @Ukr_Che
Russian coast guard ships opened fire on a group of vessels of the Ukrainian Navy as they were leaving the Kerch Strait, one person has been wounded.
"Having left the 12-mile zone, the naval group of the Ukrainian Navy came under fire opened by the coast guard service of Russia's FSB. The small-sized Berdiansk armored artillery boat was damaged. The boat is dead in the water, one person is wounded. [The Russians] shoot to kill," the press service of Ukraine's Navy said on Facebook at 20:28 local time on November 25.
As UNIAN reported earlier, the 'Yany Kapu' (Yani Qapi) tugboat of Ukraine's Navy was rammed by a Russian coast guard ship on November 25 when a group of Ukrainian vessels, namely two small-sized 'Berdiansk' and 'Nikopol' armored artillery boats and the 'Yany Kapu' tugboat were carrying out a planned transfer from the port of Odesa to the port of Mariupol in the Sea of Azov. The Ukrainian side said notification about the transfer plans had been done in advance in accordance with international rules to ensure safe navigation.
Russia, in turn, claims that the Ukrainian vessels "illegally" entered the temporarily closed water area of the territorial sea of the Russian Federation. The FSB alleges that the Ukrainian side did not file an application for passage and its boats were not included in the timetable for navigation through the Kerch Strait.
The Russian side also claimed navigation under the Crimean bridge was not possible on Sunday as it was blocked by a civilian vessel.
Read alsoRussia blocks Kerch Strait between Azov and Black Seas, two Ka-52 attack helicopters scrambled (Video)
The Ukrainian vessels had to make a U-turn on Sunday evening as Russia blocked entry to the Sea of Azov across the Kerch Strait; Russians demanded they stop and threatened to use weapons.
"After the group of the Ukrainian navy's vessels started leaving the Kerch Strait, Russian ships and boats began pursuing, demanding they stop and threatening to use weapons," the press service of the Ukrainian Navy said on Facebook in its previous update as of 19:00 local time on Sunday, November 25.
It also said that there was information that Russian special forces had been transferred on board the 'Don' ship of the Border Service of Russia's FSB Federal Security Service in order to make a boarding attempt to seize the Ukrainian vessels. Despite the threats and provocations, the boats of the Ukrainian Navy continued performing their task, it said.