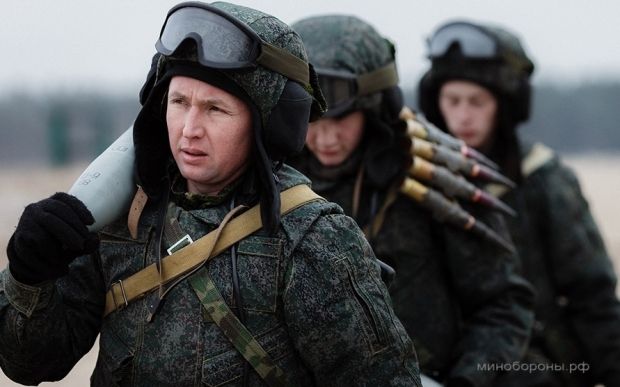 Photo from Russian Ministry of Defense
Conscripts make up 70% of the 138th Guards Motor Rifle Brigade, which was recently sent to the eastern Ukraine, who are mainly drawn from St. Petersburg, Novy Region said.
 The conscripts were drafted into the unit after it suffered substantial losses in fighting in Ukraine last summer, the newspaper said. It said Ukrainian security officials have already learned about the whereabouts of the brigade and its planned route.
As was reported to the Russian news portal Grani by the press secretary of the committee "Soldiers' Mothers of St. Petersburg" Alexander Peredruk, the organization received complaints indicating that conscripts have been actually forced to sign contracts for their deployment to Ukraine.
"Parents told us that about 70-80 people were gathered in an auditorium, they were insulted and kept inside until they agreed to sign a contract," one social activist said.
According to Peredruk, in the last two months the committee received five such appeals from the parents of the conscripted soldiers. In addition, such complaints were also made in anonymous calls to the organization's hotline.
"According to the parents' statements, about 80 draftees signed contracts, but this figure is approximate and unverified" Peredruk told.
He added that all the statements that the organization has received were submitted to the military prosecutor office.
Two battalions of Russian troops crossed the border from Russia into Ukraine on Monday, the Information and Analytical Center of the National Security and Defense Council of Ukraine reported earlier.