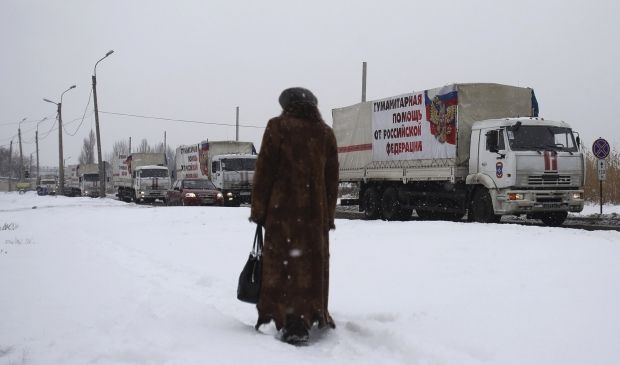 REUTERS
"The ministry is preparing another column of trucks that will bring humanitarian aid to the people of eastern Ukraine. The terms for sending the humanitarian convoy are being clarified," the report says.
According to the report, some of the trucks will set off from Noginsk in Moscow region, while another part of the column will set off from other regions of the Russian Federation.
As UNIAN reported earlier, Russia has already sent 11 convoys to the territories in Donbas that are occupied by pro-Russian militants, with the last such convoy crossing Ukrainian border on January 8.
According to National Security and Defense Council spokesman Andriy Lysenko, a total of 124 Russian trucks were at that time sent, in two groups, to Donetsk and Luhansk.
The National Security and Defense Council of Ukraine has stated that none of the Russian convoys have gained Ukraine's permission to enter the country, and they "serve only as a means of supporting armed men."
The council said the trucks mainly imported ammunition, rations and weapons to parts of Ukraine where militants have seized control from the Ukrainian local authorities.
The Ukrainian authorities also say there is an upsurge in attacks by Russian-backed militants on Ukrainian forces after every visit by the Russian convoys, which only ever visit the parts of the Donbas in which the militants have seized control.