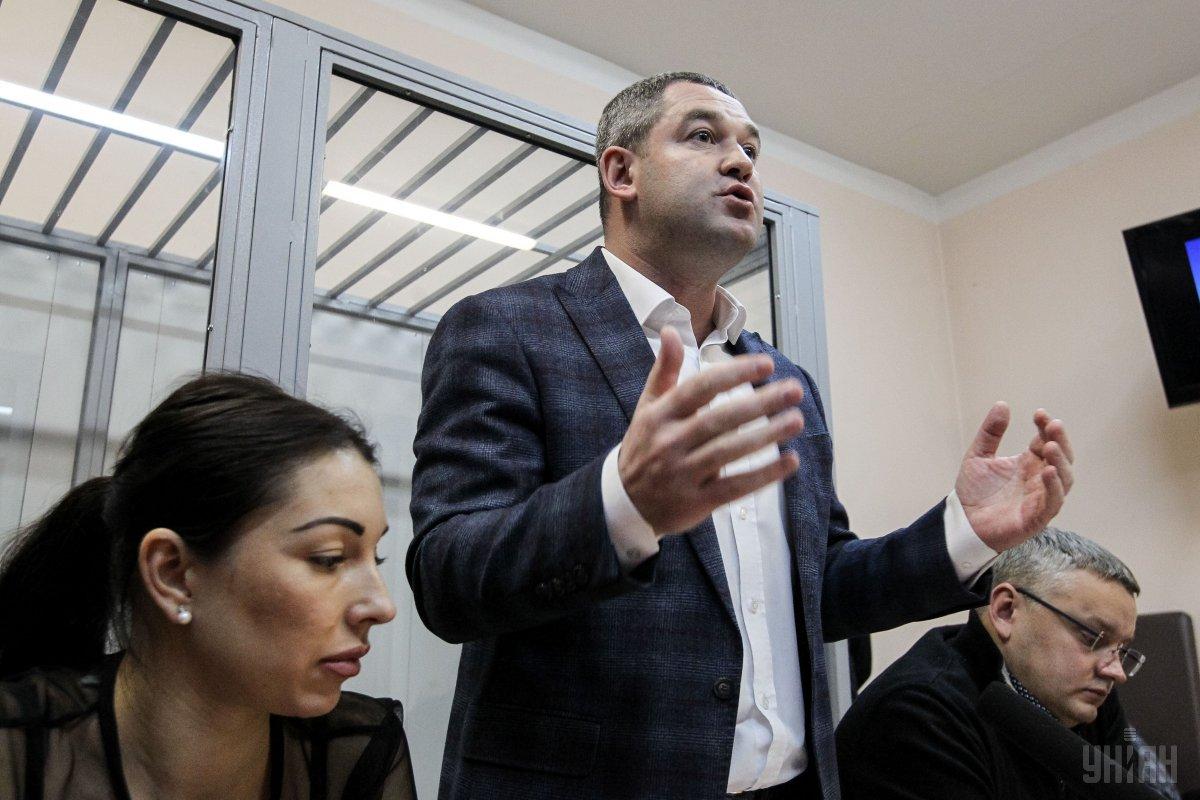 Myroslav Prodan (center) in court / Photo from UNIAN
Kyiv's Solomyansky district court has ruled that former head of Ukraine's State Fiscal Service Myroslav Prodan who is charged with illicit enrichment be released as nine Members of Parliament act as surety for him.
At the same time, Prodan is not allowed to change his place of residence and is obliged to wear an ankle monitor, Radio Free Europe/Radio Liberty's Ukrainian service reported.
This ruling was announced by Judge Iryna Usatova in the early hours of December 4.
Nine lawmakers seven of whom were present in the courtroom act as surety for Prodan.
The Specialized Anti-corruption Prosecutor's Office (SAPO), which has been probing into the Prodan case, insisted that the court should remand the suspect in custody for 60 days and alternatively set bail at UAH 89 million (about US$3.2 million).
Read alsoUkraine's fiscal service acting head Prodan resigns
It was the amount spent by Prodan to buy property with embezzled funds, SAPO prosecutor Serhiy Kozachyna said in court. According to him, Prodan bought real estate and other assets in Ukraine and Turkey, acting by proxy.
His family's official income for this period and declared savings totaled about UAH 7 million (about US$250,000), but the expenses were more than ten times higher, the prosecutor said.
Moreover, according to the prosecutors, Prodan purposely went abroad where he had his health checked in a German hospital to avoid summoning for interrogations.
For his part, Prodan argued that he returned from the EU to Ukraine on November 26 because he was not hiding from court and investigators. According to him, he does not want to leave his pregnant wife and a small child unattended and is ready to defend himself in court.
What is more, Prodan's lawyers accused the prosecutors of illegally obtaining evidence, violating the requirements of the law during a call for interrogation. Moreover, they insist that the evidence gathered by the SAPO is inconsistent.
On November 16, the SAPO indicted Prodan in absentia; he is suspected of illicit enrichment. SAPO prosecutors said Prodan had not appeared for investigative and procedural actions, and also did not provide evidence that he was abroad for valid reasons.
Prodan is suspected that while working as head of the State Fiscal Service, he embezzled UAH 89 million to buy two apartments, two houses in Turkey and three cars.