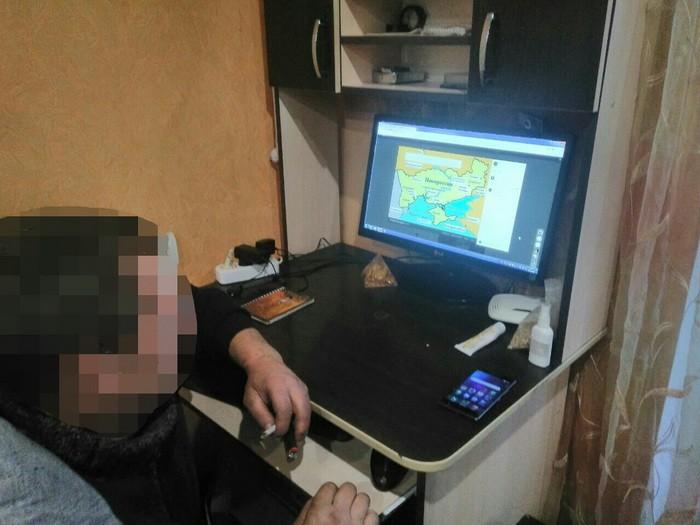 SBU press service
Security officials exposed a disinformation campaign orchestrated from Russia and occupied Crimea, aimed at sowing panic among Ukrainian users of social networks against the background of the recent introduction of martial law.
During a raid in Dnipropetrovsk region, a local resident was revealed who had been recruited to become one of the provocateurs working "in the field" as part of the scheme. The suspect would post on social networks public calls for violating Ukraine's integrity.
Security officials got hold of the man's electronic correspondence with Russian nationals and Crimea residents who had tasked him with distributing provocative material, the SBU press service reported Tuesday.
Read alsoRussia massively employing social networks to sow panic as Ukraine introduces martial law
Among the material forwarded for posting there were reports on the alleged "legality" of actions of the Russian forces near the Kerch Strait during their attack on the Ukrainian naval vessels, as well as condemnation of the actions of the Ukrainian sailors, according to the SBU report.
"Russian curators would also send for dissemination fake instructions, allegedly made by Ukrainian authorities to citizens, regarding the 'seizure for military needs' of private vehicles with foreign registration plates, fake photos of empty food shelves in Ukrainian grocery stores, long lines at gas stations, and draft calls from enrollment stations claiming 'nationwide mobilization'," the Security Service of Ukraine reports.
It is noted that the revealed network of provocateurs was deliberately set to involve Ukrainian nationals, to better adapt fake news for the local population and create the illusion of "truthfulness" of messages spread.
Read alsoRussian infowars: FSB to claim captured Ukrainian sailors injured in skirmish between each other
As UNIAN reported earlier, the Verkhovna Rada of Ukraine on the evening of November 26 supported the introduction of martial law in several regions of Ukraine and in the internal waters of the Azov-Kerch water area. Martial law is introduced in 10 regions of Ukraine: Vinnytsia, Odesa, Mykolayiv, Kherson, Zaporizhia, Donetsk, Luhansk, Kharkiv, Sumy, and Chernihiv regions.
The decree provides for the introduction of martial law from 9:00 on November 28, 2018, for a period of 30 days.