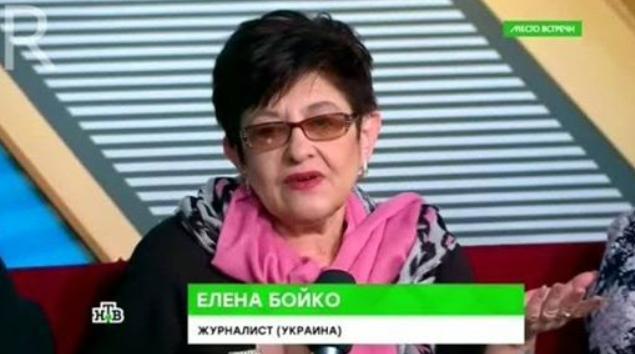 Vishchur also known as Boyko has seven days to appeal the court ruling / Screenshot
Russian authorities have decided to deport Ukraine's pro-Russian journalist Olena Boyko for violation of Russia's migration rules.
The decision was taken by Moscow's Preobrazhensky District Court.
The court found her guilty of violating the rules of entry/stay and ruled she should be deported from Russia, Ruslan Ostashko, the editor-in-chief of the Kremlin-supporting website PolitRussia, wrote on Facebook.
Read alsoPoroshenko: Ukraine stands against Goebbels-like Russian propaganda
She should also pay RUB 5,000, or about US$75, in fines.
In Ukraine, Boyko is suspected of encroachment on Ukraine's territorial integrity and inviolability and state treason.
The journalist is known for her participation in talk shows of Russian propaganda TV channels, where she criticized the incumbent Ukrainian authorities. She is also an advocate of terrorist organizations, the "Donetsk People's Republic" and "Luhansk People's Republic."
As was reported, journalist from the west Ukrainian city of Lviv Olena Vishchur, also known as Boyko (her pen-name), who fled Ukraine in March 2016, was detained in Russia on December 10, 2018.
The court considered her case on the same day. She has seven days to appeal its ruling.