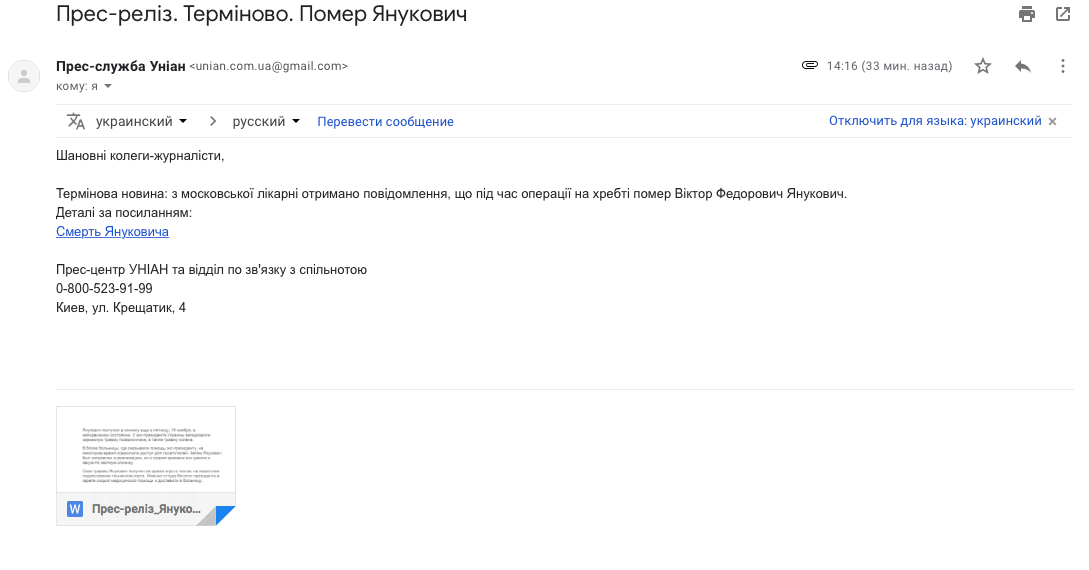 Perpetrators who are yet to be identified have sent from unian.com.ua@gmail.com – an address that is non-related to UNIAN – to a number of Ukrainian media outlets a barrage of "breaking news" emails wrongfully claiming the fugitive ex-president of Ukraine Viktor Yanukovych has died at a Moscow hospital.
The text of the email included the actual physical address of UNIAN LLC and a telephone number unknown to the editorial board, the news agency wrote in a statement.
UNIAN has in no way contributed to the distribution of the message and neither is the e-mail address unian.com.ua@gmail.com in any way related to UNIAN. It is not managed by its editors or other departments of the Company.
"Our news agency uses only email addresses from the unian.net domain belonging to us," the statement reads.
"Unfortunately, we cannot confirm the news set out in the letter that left no one indifferent. We ask our colleagues to remain vigilant: perhaps the successful holding of the Unification Council of Orthodox Churches is still bothering some unstable people across the border, or maybe, someone is uncomfortable over our reports on corrupt officials in Ukraine – since these unidentified persons decided to send a fake newsletter, namely under the guise of an UNIAN brand.