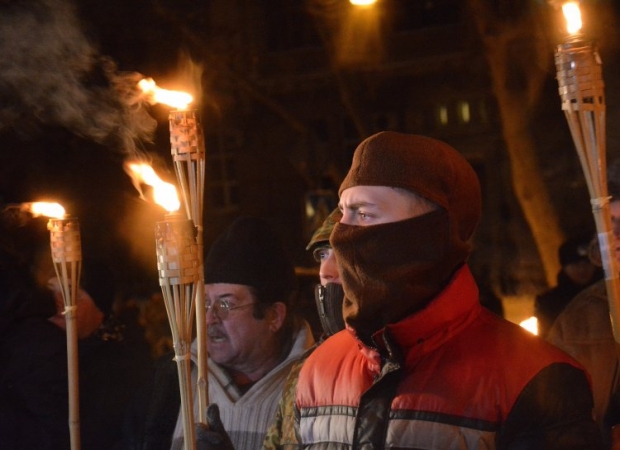 Photo from UNIAN
Ukrainians carrying torchlights in commemoration of the 110th anniversary of the Organization of Ukrainian Nationalists (OUN) leader Stepan Bandera's birth in Kyiv have started their event in Kyiv's Shevchenko Park.
Read alsoOver 6,500 people take part in events across Ukraine to honor Bandera (Photos)
The activists gathered at 18:00 Kyiv time on Tuesday, January 1. They marched along the streets in the center of Kyiv in a torchlight procession.
The political party "All-Ukrainian Union 'Svoboda'" ("Freedom") and the National Corps announced their participation in the event.
As UNIAN reported earlier, on December 18, the Verkhovna Rada, Ukraine's parliament, passed Resolution No. 9234 on the celebration of memorable dates and anniversaries in 2019, among them was the birthday of the OUN leader, Stepan Bandera.
On December 11, the local authorities in Ukraine's Lviv region declared the year of 2019 to be the year of Stepan Bandera and the Organization of Ukrainian Nationalists.
UNIAN memo. January 1, 2019 marks the 110th anniversary of Stepan Bandera's birth. He was a Ukrainian politician, one of the ideologists and theorists of the Ukrainian nationalist movement in the 20th century. After the split of the Organization of Ukrainian Nationalists, Bandera was the chairman of the OUN (B) Provid.