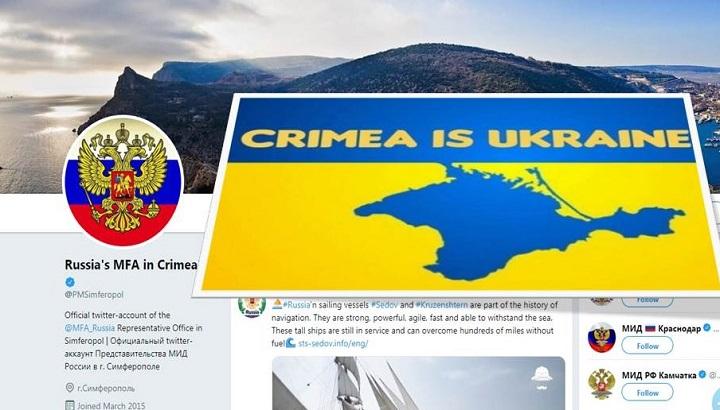 / Image from Twitter @UkrEmbLondon
Twitter has verified the "official" Twitter account of the illegally opened "representative office" of Russia's Ministry of Foreign Affairs in the Russian-occupied city of Simferopol (Russia's MFA in Crimea @PMSimferopol).
"We have sent [an] official complaint @TwitterSupport. It's absolutely unacceptable to give so called #Russia's MFA in occupied #Crimea a blue tick!" Ukraine's Embassy to the United Kingdom tweeted on January 10.
"Russia illegally annexed Crimea, militarized it & commits gross violations of human rights. Twitter must block that account! #crimeaisukraine," the Embassy said.
The @PMSimferopol account was opened in March 2015. Currently, it boasts nearly 6,200 followers.
UNIAN memo. Russia annexed Ukraine's Crimea in March 2014 after its troops had occupied the peninsula. An illegal referendum was held for Crimeans to decide on accession to Russia. De-facto Crimean authorities reported that allegedly 96.77% of the Crimean population had voted for joining Russia. On March 18, 2014, the so-called agreement on the accession of Crimea and the city of Sevastopol to Russia was signed in the Kremlin. The West did not recognize the annexation in response to which sanctions against Russia were introduced. Ukraine's parliament voted to designate February 20, 2014, as the official date when the temporary occupation of Crimea began.