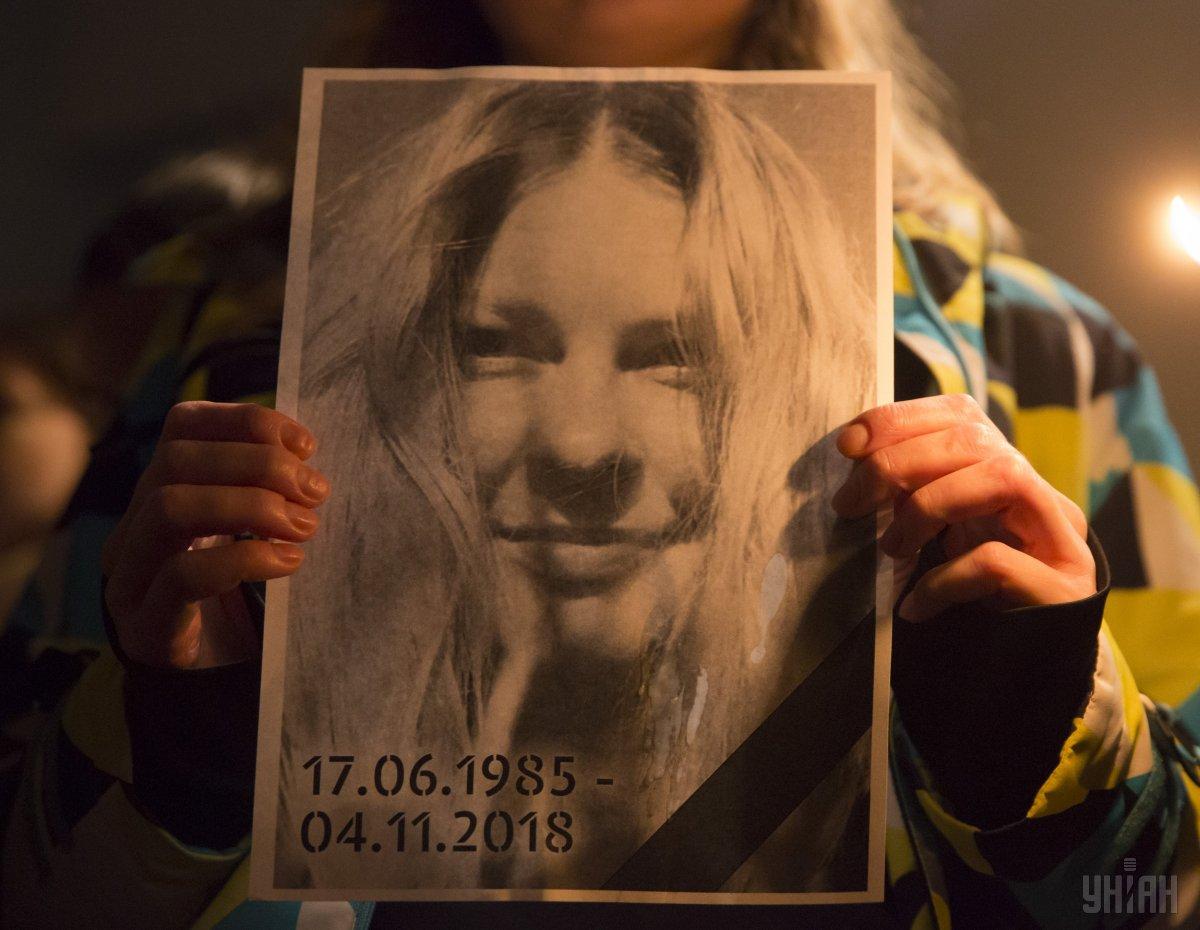 Photo from UNIAN
PGO spokesperson Larysa Sargan has said the SBU Security Service of Ukraine puts the alleged organizer of the murder of Kateryna Handziuk on wanted list on December 10 last year.
"A person that goes by the name of Levin was put on wanted list on December 10 last year," Sargan told UNIAN, adding he is a suspected organizer of assassination of a Kherson activist.
At the same time, Sargan clarified he had been put on wanted list by a pretrial investigation body of the Security Service of Ukraine.
Read alsoInvestigators name one of main versions of Kherson activist murder
The SBU has not yet commented on this information.
As UNIAN reported earlier, Kherson activist, advisor to the Mayor of Kherson and acting manager of affairs at Kherson City Council's executive committee Kateryna Handziuk on July 31 was drenched in sulphuric acid.
Handziuk suffered acid burns to over 30% of the total body surface, while doctors assessed her condition as serious. She was transferred to a Kyiv hospital, where she died on November 4 despite extensive efforts of medical teams.
Police originally qualified the attack on the official as an attempted murder committed with extreme cruelty, then its status was changed to completed murder.
Six suspects were detained, one of whom, Mykola Novikov, was later released from custody as charges against him were dropped. Three suspects – Vyacheslav Vishnevsky, Volodymyr Vasyanovych, and Viktor Horbunov – are now under house arrest. The alleged organizer of the assassination, Serhiy Torbin, remains in custody. Mykyta Hrabchuk, another suspect in the case, is also under arrest. On November 5, the media reported that Torbin had allegedly received money for the attack on Handziuk from Ihor Pavlovsky, an assistant to MP Mykola Palamarchuk.
Palamarchuk in turn dismissed any accusations of his possible involvement in the assassination attempt on the activist. He also said he had dismissed Pavlovsky.
On November 12, a court ruled to remand Pavlovsky in custody. Lutsenko announced on December 3 that the investigators had identified all persons who had ordered the assassination.