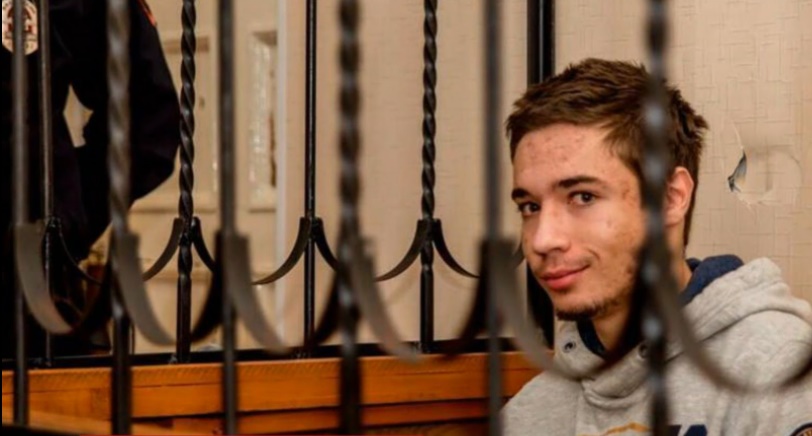 Pavlo Hryb was detained when he was 19 / Screenshot
Ukrainian Verkhovna Rada Commissioner for Human Rights Liudmyla Denisova says the Ukrainian consul will not be allowed to visit 20-year-old Ukrainian political prisoner Pavlo Hryb in Russia until a verdict on him has been announced.
"I know the court did not unfortunately let Pavlo's mother visit him, but will ... allegedly allow the consul to meet Pavlo, but only after the verdict," Denisova told journalists, according to Channel 112 Ukraine.
It is not foreseen by the consular convention that is in effect between Ukraine and Russia, she added.
She also said she was informed by Russian presidential adviser and chairman of the council under the Russian president for the development of civil society and human rights Mikhail Fedotov on February 4 that Hryb had been examined by doctors.
"And now Russian doctors allege that his condition is satisfactory, but we know that the court hearing on Pavlo was rescheduled for February 18, and I asked all representatives of [Ukraine's] diplomatic missions located in the city of Rostov-on-Don to attend the court hearing and see how Pavlo Hryb looks and feels," she said.
As UNIAN reported earlier, Pavlo Hryb is being tried in Russia on trumped-up "terrorist" charges as investigators claim he instructed an accomplice to set off an explosive device at a Russian schoolyard. He was just 19 when he was abducted by the FSB from Belarus on August 24, 2017, after going there to meet who he thought was a young woman he had chatted with online, and fallen in love with.
Hryb is diagnosed with portal hypertension, which requires daily intake of necessary medications and a special diet, the lack of which could become fatal. Russian authorities do not allow Ukrainian doctors to examine the political prisoner.
Denisova said on January 29 Hryb's condition was very serious and he needs immediate heart surgery.