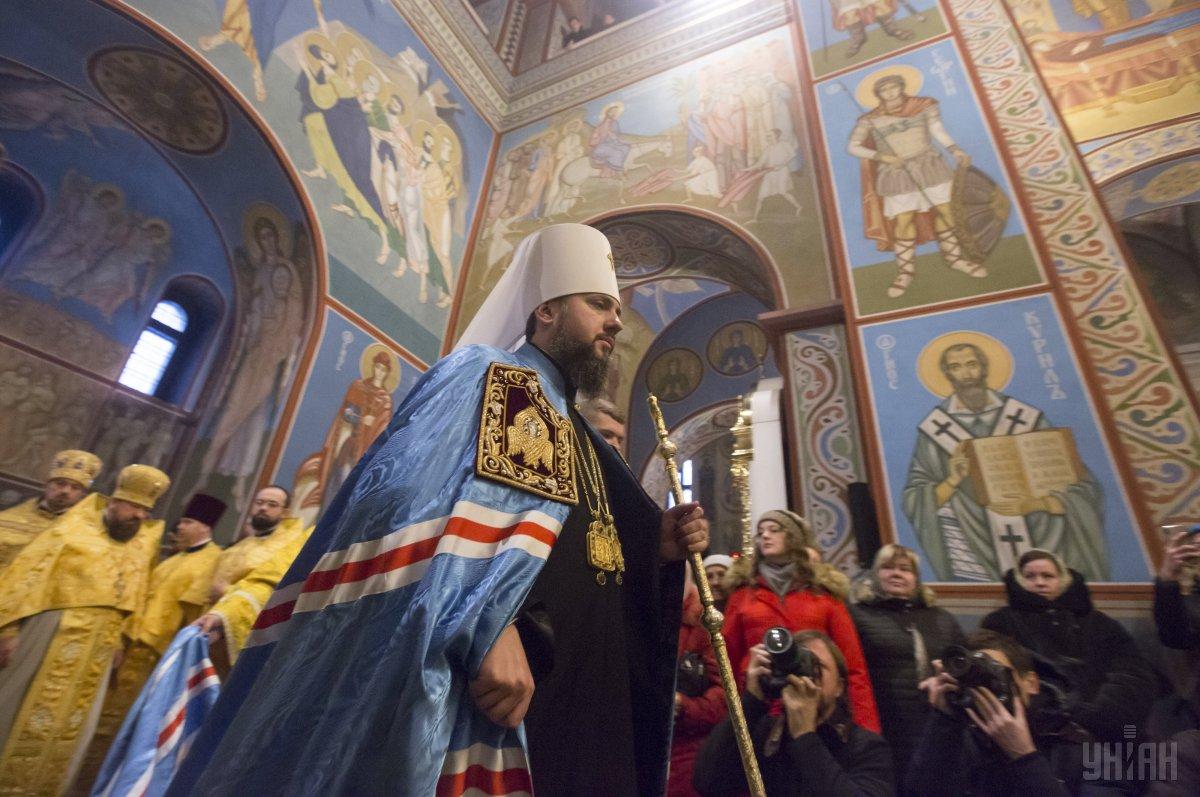 Photo from UNIAN
Metropolitan of Kyiv and All Ukraine, the head of the newly created Orthodox Church of Ukraine Epifaniy has endorsed the members of the church's Holy Synod.
Along with the permanent members of the Holy Synod (Honorary Patriarch Filaret, Metropolitan Makariy and Metropolitan Symeon), the Synod includes: Metropolitan of Lviv and Sokal Dymytriy, Metropolitan of Cherkasy and Chyhyryn Ioan (John), Archbishop of Donetsk and Mariupol Serhiy, Archbishop of Poltava and Kremenchuk Fedir, Archbishop of Rivne and Ostroh Ilarion, Archbishop of Chernihiv and Nizhyn Yevstratiy, Archbishop of Chernivtsi and Khotyn Herman, Archbishop of Vyshgorod Agapit, Bishop of Dnipro and Kryvyi Rih Symeon, the church's press service said.
Read alsoOver 200 parishes of former UOC-MP join new Orthodox Church of Ukraine – MP
In keeping with the charter of the church, the annual (permanent) Synod consists of the Metropolitan of Kyiv as its chairman and the twelve diocesan bishops, periodically appointed by the chairman, according to seniority by bishop ordination.
The synodal year is divided into two synodal periods, namely the winter one from September 1 to February 28-29 and the summer one from March 1 to August 31. Half of the members of the annual (permanent) Synod shall be reshuffled for each such period. The term of office of each member of the Synod is one year.
During the transition period, the permanent (annual) Synod includes three ex-leaders of the churches that form the new church as permanent members. In case of non-participation of one of them in the unification council, the top senior representative of their church by bishop ordination becomes a permanent member of the Synod.
The members of the Synod held their first meeting at Kyiv's Saint Sophia Cathedral on February 5.
All members of the Synod except for Archbishop of Donetsk and Mariupol Serhiy were present at the February 5 meeting, as he was hospitalized in the morning in connection with cardiovascular disease, the press service said.
The Synod appointed Metropolitan of Cherkasy and Chyhyryn Ioan (John) as chairman of the synodal department of the military clergy. What is more, to coordinate the efforts of the church to help victims who suffer from the violation of human rights, an Orthodox mission was created to assist victims of human rights violations and persons deprived of their freedom in the occupied territories of Ukraine and Russia. Archbishop of Simferopol and Crimean Clement was tapped to head the mission.
Having considered all the issues on the agenda, the Synod successfully completed its meeting.