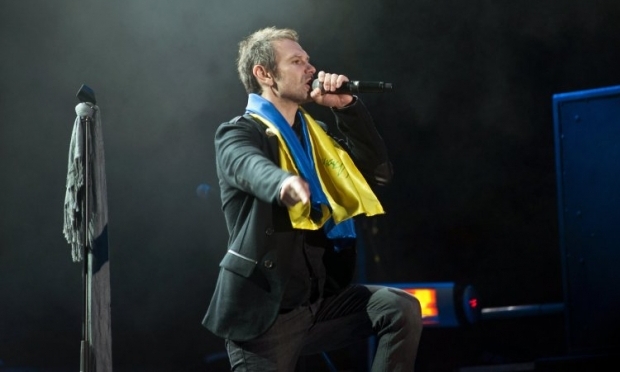 Photo from UNIAN
Ukrainian rock star and former Member of Parliament Svyatoslav Vakarchuk has said Ukraine needs a third revolution that will occur "in the mindsets" of Ukrainians.
"I think we need a third revolution now, but it should be a mindset revolution. And this is one of the biggest challenges that I see. This is the goal and mission that I feel. To make the revolution happen faster in our heads. And in the heads of new politicians, and in the heads of voters," he said in an interview with journalist Sonya Koshkina.
Read alsoUkrainian rock star Vakarchuk not to run for president in 2019 (Video)
Vakarchuk said he was dissatisfied with the pace of change, accusing the "old class of politicians."
"Change is under way. It's not the lack of change I'm unhappy with – it is happening one way or another. I am unhappy with the pace of the change. And I think it is the class of political dinosaurs who have been in power for so many years is to blame for that pace of change. Their political culture and their rules of the game do not allow us to move faster," the musician said.
According to Vakarchuk, the line-up of Ukraine's Verkhovna Rada has changed for the better compared to the years when he was a lawmaker.
"When I was there, there were a few of those people who I can call people of the future, people with different principles. Today there are already dozens of such people. According to various estimates, 30-40 people... I hope there will be more such people in the next parliament," the musician said.
Vakarchuk also said he was busy preparing his own political plan, and he wants more young professionals to be involved in politics.
"I'll share everything in due time... When I'm ready to announce my action plan, I'll definitely do that. It is being developed," he said.
In addition, the singer is convinced of the need for large-scale debates among all presidential candidates in Ukraine so that the voters could know more about them as politicians.