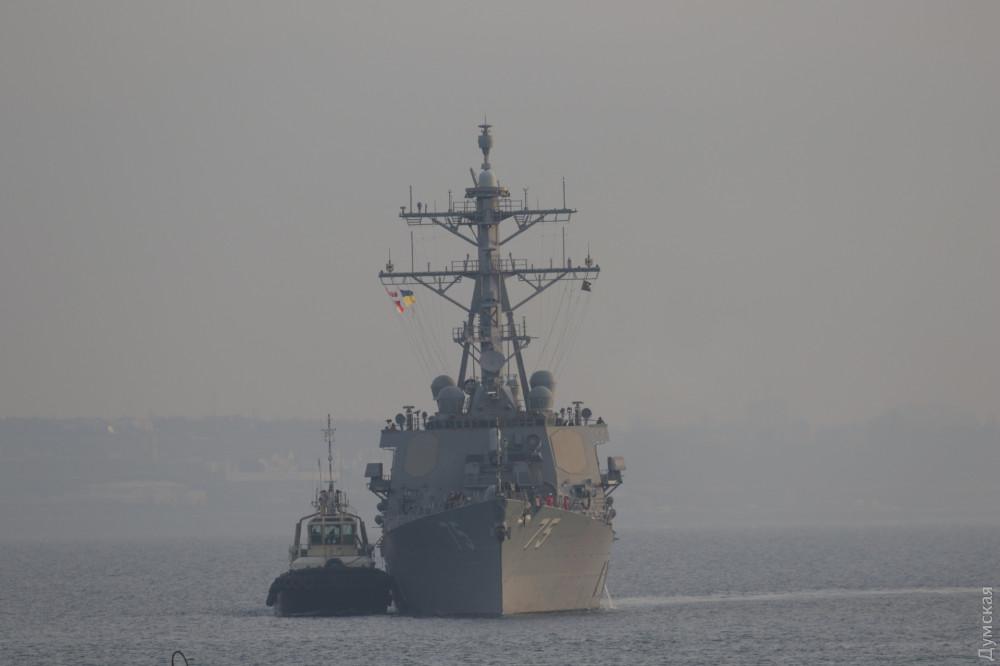 The Arleigh Burke-class guided-missile destroyer USS Donald Cook / Photo from dumskaya.net
The USS Donald Cook (DDG75), the U.S. Navy's missile destroyer, arrived at the port of Odesa, Ukraine, on February 25.
"The Arleigh Burke-class guided-missile destroyer USS Donald Cook (DDG 75) arrived in Odesa, Ukraine, February 25, 2019 for a scheduled port visit as part of our continued Black Sea presence and support to our region partners," U.S. Naval Forces Europe-Africa/U.S. 6th Fleet said in a report on its official website.
Since arriving in the Black Sea on February 19, 2019, the ship's crew conducted maritime interoperability training exercises with the Turkish navy. These operations enhance regional maritime stability, combined readiness and naval capability with our NATO allies and Black Sea partners.
This is the fourth U.S. ship visit to Odesa since January 2018. "While in port, the ship will host local dignitaries and media for tours and engagements with crew, which will culminate with a reception," the report said.
The vessel will stay in Odesa until February 27.
Donald Cook is the third U.S. naval vessel to conduct operations in the Black Sea in 2019. The ship entered the Black Sea on February 19, 2019 to strengthen interoperability with NATO allies and partners and demonstrate the collective resolve to Black Sea security.
In January, Donald Cook and Fort McHenry conducted port visits to Georgia and Romania, respectively.
The U.S. Navy routinely operates in the Black Sea consistent with the Montreux Convention and international law.
U.S. 6th Fleet, headquartered in Naples, Italy, conducts the full spectrum of joint and naval operations, often in concert with allied, and interagency partners, in order to advance U.S. national interests and security and stability in Europe and
Africa. According to Russian news agencies, after the U.S. missile destroyer's entry into the Black Sea, Russia's National Defense Management Center said the Russian military had immediately begun tracking her movement. "Direct monitoring of her actions is carried out by the small gunnery ship Orekhovo-Zuyevo and the reconnaissance ship Ivan Hurs," the center said.