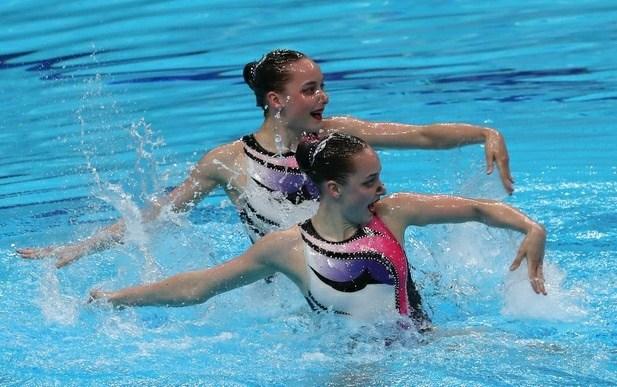 Twin sisters Vlada Aleksiiva and Maryna Aleksiiva / Photo from National Olympic Committee of Ukraine
Two Ukrainian synchronized swimming pairs have won gold medals at the duet events at the FINA Artistic Swimming World Series 2019 in Paris, France, on March 3.
Both duet events were won by Ukrainian pairs: Anastasiya Savchuk and Marta Fiedina clinched gold in the technical with 90.7207, while the twin sisters Vlada Aleksiiva and Maryna Aleksiiva achieved 91.6333 in the free for the gold, according to the FINA's official website.
"Japan, France and Spain were the other nations to medal in these sessions," it said.
Read alsoUkraine's Romanchuk wins World Swimming Championship in 1500m
World medalists Yumi Adachi / Atsushi Abe of Japan took the top honors in both the mixed events, with 85.8529 and  87.4667 points, respectively. Spain and Brazil secured the silver and bronze medals in this order for both the technical and free too.
The Japanese superstar, 29, topped the solo technical with 90.5294 points and was followed by Spain's Ona Carbonell with 90.4893 and Vasilina Khandoshka of Belarus with 82.5783. Inui also took the top honors in the solo free with 91.7667, while Ukraine's Marta Fiedina claimed silver (91.0000) and France's Eve Planeix closed the podium (84.9667).
The medals table is the following (G – gold, S – silver, B – bronze):
Japan – 4G, 2S
Ukraine – 3G, 1S, 1B
France – 1G, 2S, 1B
Brazil – 1G, 2B
Spain – 1G, 3S, 1B
Israel – 4B
Belarus – 1B
The event in Paris was the first one out of the nine scheduled events. It began on March 1. The second event will be hosted by Alexandroupoli, Greece, on April 5-7. The third event will take place in Kazan, Russia, on April 19-21 and the fourth will be held in Tokyo, Japan, on April 27-29.