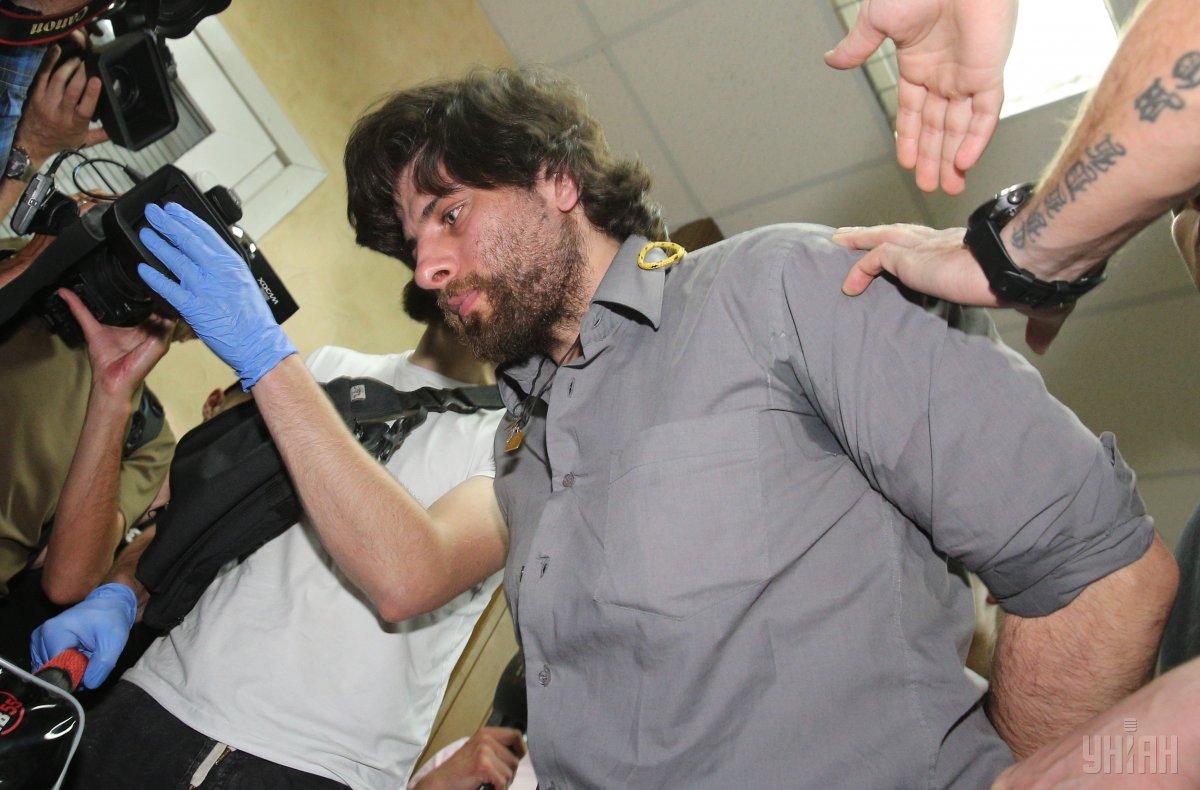 Lusvarghi remained in Kyiv, living in a monastery, until C14 nationalists detained him in May 2018 / Photo from UNIAN
Ukrainian prosecutors insist on 14-year imprisonment for Brazilian citizen Rafael Lusvarghi who fought alongside with terrorists of the "Donetsk People's Republic" against the Ukrainian army.
The court decided to remand Lusvarghi in custody until May 16, the press service of the Prosecutor's Office in the city of Kyiv said.
Dnipropetrovsk region's Pavlohradsky district court conducted judicial pleadings in the Lusvarghi case.
"During the pleadings, the prosecutor upheld the evidence presented in court and asked the court to impose a 14-year prison sentence on the accused with confiscation of property," it said.
The accused in turn pleaded guilty to participation in illegal armed groups but denied participation in terrorist organizations.
Read alsoSBU opens case against C14 nationalists for detention of Brazilian mercenary – lawyer
"Having heard the sides, the court extended the accused's detention until May 16 and appointed the date of the accused's final plea for May 2," the prosecutor's office added.
As UNIAN reported earlier, Lusvarghi was detained in Ukraine in October 2016 for participation in illegal armed formations of the terrorist organization "Donetsk People's Republic" from September 2014 to May 2015. The SBU Security Service of Ukraine said that the convicted had fully recognized his guilt during the investigation. On January 25, 2017, Kyiv's Pechersky court sentenced him to 13 years in prison. His defense appealed the verdict, a court of appeals overturned it because of procedural mistakes and returned the case for retrial.
The Brazilian was supposed to participate in a December 2017 swap for Ukrainian prisoners of war, therefore a Ukrainian court had released him in exchange for his personal guarantees. Lusvarghi remained in Kyiv, living in a monastery, until early in May 2018, members of the nationalist organization C14 (Sich) detained the Brazilian mercenary near the embassy's building and brought him to the Kyiv office of the SBU Security Service of Ukraine. His lawyer Valentin Rybin claimed that Lusvarghi was unable to return to Brazil because "the Ukrainian authorities had not given the passport and travel documents back to the Brazilian."
Ukraine's Supreme Court selected Dnipropetrovsk region's Pavlohradsky city district court for retrial. The latter ruled on May 7, 2018, to remand the defendant in custody.
On October 30, 2018, Lusvarghi dismissed Rybin and asked for a public defender.