REUTERS
Speaker for the State Border Guard Service of Ukraine Oleh Slobodyan says many border guards have recently got fake provocative SMS messages ahead of presidential elections in Ukraine.
Read alsoUkraine reinforces borders ahead of presidential elections – media
"The messages say about the alleged secret arrival of the 'U.S. special forces' in Kyiv, that the issue of the 'Maidan 3.0' has already been resolved and it makes no sense to serve since 'everything has already been decided for you.' The State Border Guard Service of Ukraine officially declares that not a single American or any other special forces arrived in Ukraine. The border guards are at their workplaces and positions and conscientiously and quietly perform the duties assigned to them by the people of Ukraine," he wrote on Facebook.
Slobodyan says no one should succumb to provocations and panic. "And if you get such SMS messages on your phone, inform the competent law enforcement agencies. I think the sources of these 'messages' will be established very quickly," he added.
Slobodyan says it is all about trying to influence the electoral process with the help of manipulative technologies. "Very often, such actions are the interests of a third party. The goal of the latter is the one – to destabilize the situation in the country and disorient certain social groups and society as a whole," he said.
Slobodyan also published a photocopy of the fake message.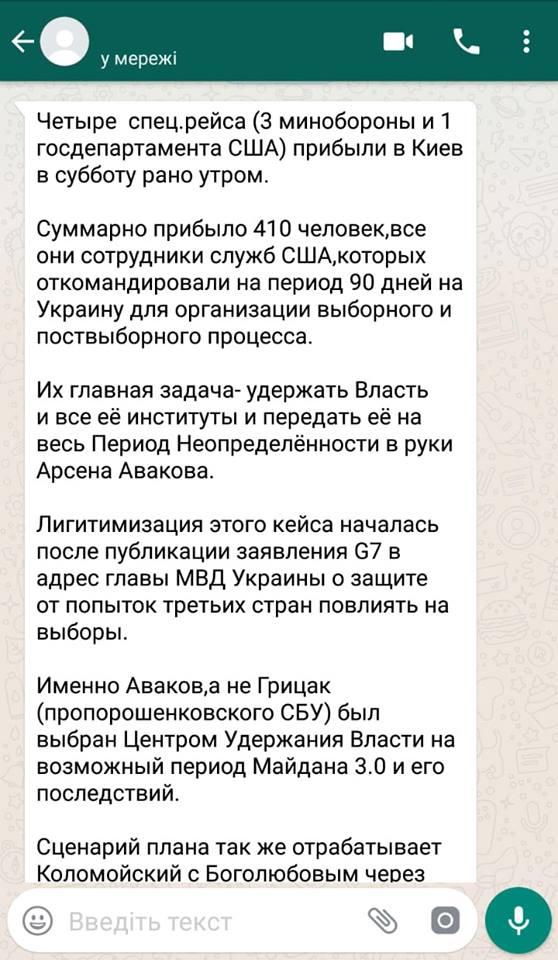 facebook.com/oleh.slobodyan