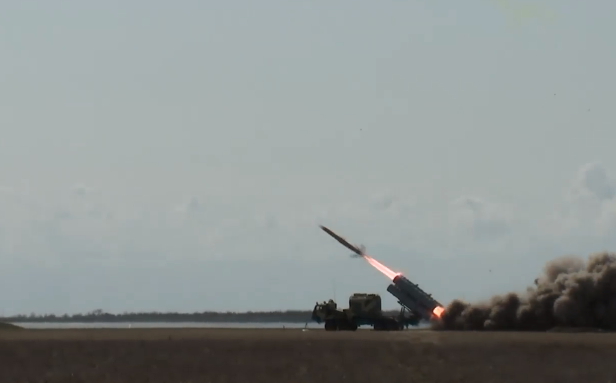 Screenshot
Ukraine successfully tested the Neptun anti-ship missile defense system on April 5.
President of Ukraine, Supreme Commander-in-Chief of the Armed Forces of Ukraine Petro Poroshenko took part in the tests of the latest Ukrainian cruise missile complex for defeating the marine and coastal targets. All components of the complex were produced at Ukrainian defense enterprises, according to the president's press service.
Another stage of the test, which took place at the State Testing Ground of the Armed Forces, was successful. A group of 11 ships of the Ukrainian Navy provided safety of the tests in the Black Sea.
"Today, one of the final tests of a new cruise missile, which will be adopted by the Naval Forces, takes place in Odesa region," Poroshenko said.
Read alsoUkraine Army testing Turkish strike drones – Poroshenko
According to him, it is an anti-ship missile, a shore defense missile that can be used by the Land Forces as well.
"A huge contribution, including the possibilities to increase the radius of the given missile, the use of high-precision weapons, a more powerful warhead – all this is the achievement of the defense complex of Ukraine, the achievement of Luch design bureau, the achievement of our IT sector, the sector that develops armored vehicles," the Supreme Commander-in-Chief noted.
The president also says the students of the Odesa Maritime Academy, who are currently studying, mastering the technology and will continue to work with this missile complex, also took part in the tests. "You see the cadets of our institutes behind me. At the stage of preparation for the adoption of weapons, they are already mastering the latest technologies," he said.
Poroshenko remarked: "This is done to drastically shorten the period that will allow combat use in the event of expansion of aggression against our state by the enemy."
Also, Poroshenko stressed the military attachés of the partner countries of Ukraine were invited to test the missile complex.
At the same time, he noted today the enemy had tried to hinder the tests of Ukrainian missiles: "It tries to block the sky. Uses the means of electronic warfare, tries to prevent our tests. But it creates real conditions for the combat use of these missiles. No mitigating conditions," he added.
"Today we are ready to complete the test and equip the Navy and the Land Forces on my command, in an extremely short period of time, in order to increase the potential, effectiveness of combat use of the Armed Forces," he said.