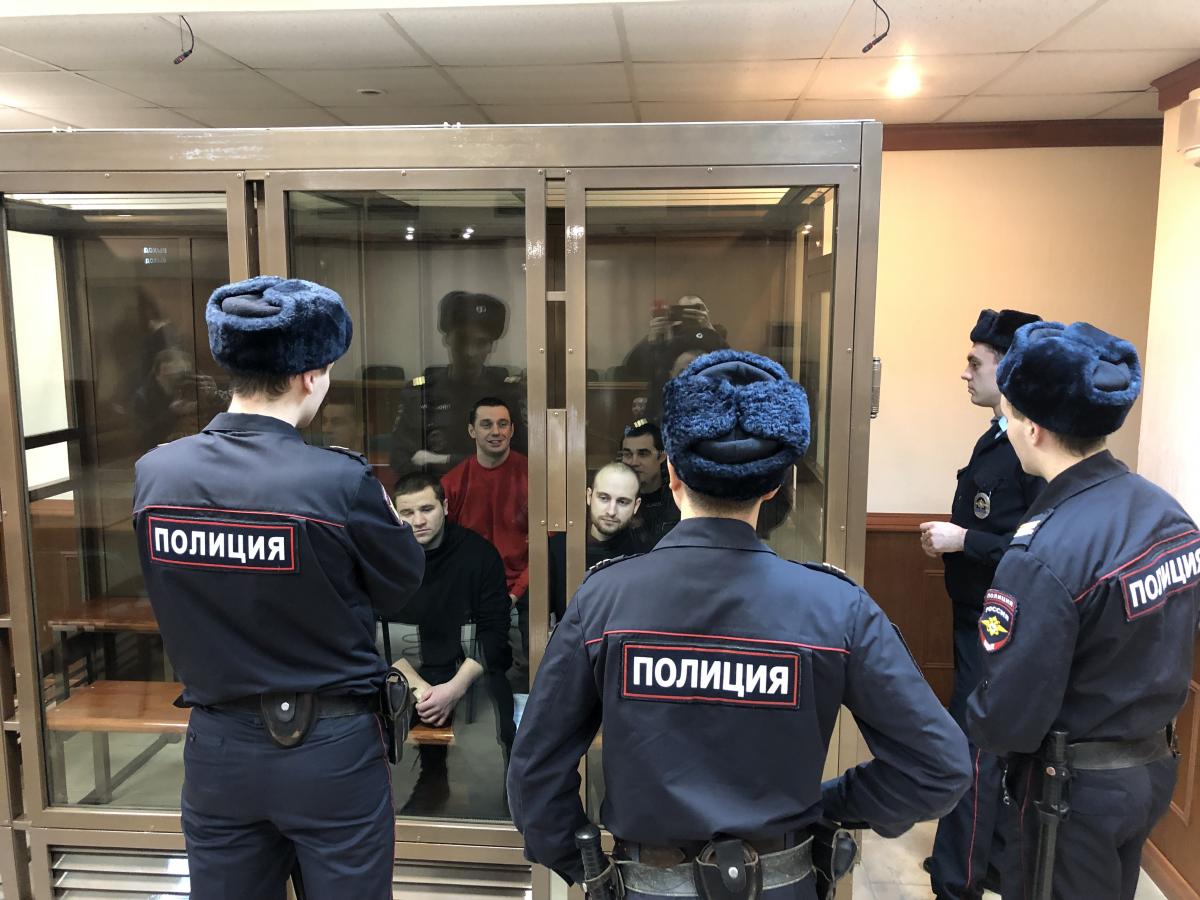 Photo by Roman Tsymbaliuk
Russian lawyer and human rights activist Nikolay Polozov has said Moscow's Lefortovo district court on April 17 will consider a motion from Russian investigators to extend the arrest of 24 Ukrainian sailors captured in the Kerch Strait.
"Court hearings will be held on Wednesday, April 17. As was the case in January, Moscow's Lefortovo district court will hold court hearings against prisoners of war in fours, split among three judges in two shifts," Polozov told UNIAN.
According to preliminary information from the investigation, the motion for the extension of the arrest is to be submitted to the Lefortovo district court on Monday, April 15.
Read alsoG7 foreign ministers call on Russia to release Ukrainian sailors
According to him, at 09:30 Moscow time, the court hearings will be held on the first four sailors, namely Andriy Drach, Denys Hrytsenko, Viacheslav Zinchenko, Mykhailo Vlasiuk, the second four – Roman Mokriak, Andriy Oprysko, Yevhen Semydotsky, Serhiy Tsybizov, and the third four – Volodymyr Tereshchenko, Bohdan Holovash, Serhiy Popov, and Andriy Shevchenko.
At 14:00 Moscow time, the court will hold hearings on the fourth four, namely Bohdan Nebylytsia, Yuriy Budzylo, Volodymyr Lisoviy, Yuriy Bezyazychny, the fifth four – Andriy Artemenko, Andriy Eyder, Vasyl Soroka, Oleh Melnychuk, and the sixth four – Viktor Bespalchenko, Vladyslav Kostyshyn, Volodymyr Varimez, and Serhiy Chuliba.
UNIAN memo. On the morning of November 25, Russia blocked the passage to the Kerch Strait for the Ukrainian tugboat "Yany Kapu" and two armored naval boats "Berdyansk" and "Nikopol," which were on a scheduled re-deployment from the Black Sea port of Odesa to the Azov Sea port of Mariupol. The Ukraine Navy Command noted that the Russian side had been informed of the plans to re-deploy the vessels in advance in accordance with international standards to ensure the safety of navigation. The Russian coast guard ship "Don" rammed the Ukrainian tugboat, damaging the Ukrainian vessel. As the Ukrainian boats were heading back in the Odesa direction after being rejected passage via the Kerch Strait, Russian coast guards opened aimed fire on them. All 24 crew members on board were captured and later remanded in custody for two months, being charged with "illegal border crossing" (the sailors are facing up to six years in prison). Three crewmen were wounded in the attack. Russian-controlled "courts" in occupied Crimea ruled that all 24 detainees should be remanded in custody, after which they were transferred to the Moscow-based Lefortovo and Matrosskaya Tishina detention centers. Moscow's Lefortovo district court in the middle of January 2019 decided to keep the Ukrainian sailors in remand until the end of April 2019.