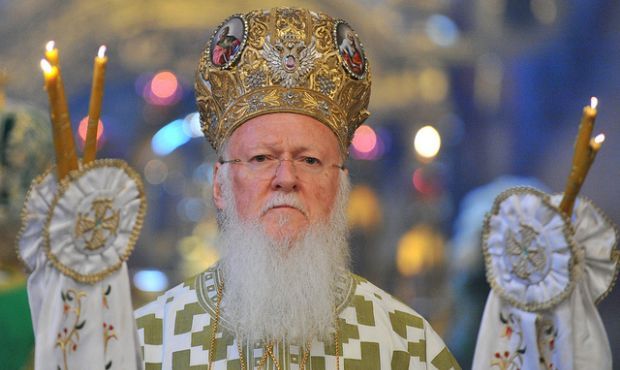 peoples.ru
Archbishop of Constantinople-New Rome and Ecumenical Patriarch Bartholomew has congratulated Volodymyr Zelensky on his victory in the second round of the presidential elections in Ukraine.
"It is with great joy that we address this Patriarchal letter of commendation upon your election as the new president of Ukraine. The overwhelming approval and support that you received from your fellow countrymen in the ballots is, indeed, a testament to the hope and trust that has been placed in your person to continue to lead your noble homeland to even greater heights and broadened horizons in the years to come," Ambassador of Ukraine to Turkey Andrii Sybiha posted a copy of the relevant letter on April 24, 2019.
Read alsoOver 500 parishes become part of Ukraine's new independent Church
"Our thoughts and prayers are always with all the people of goodwill, and this is precisely why our Venerable Institution welcomes all initiatives that seek to promote Christian unity and dialogue, as well as mutual respect and peaceful coexistence throughout the world – among peoples, nations and religions. Our Sacred Center firmly holds in its heart and mind the past and present contributions that it has made to your proud Nation for its enhanced welfare and spiritual prosperity, both in word and in deed," the letter says.
"As you know, centuries of common history and common struggle unite the Ecumenical Patriarchate with the noble people of Ukraine, and it pleases us to witness the progress and life that your country continues to gain for itself day by day – a life that is worthy to have and a destiny that it rightly pursues. May God continue to bless Ukraine and preserve it in peace forever."
"In closing, we personally, together with the Ecumenical Patriarchate collectively, express our confidence in your charisma and administrative abilities, praying that you may enjoy several years of dynamic service and inspirational leadership," the Ecumenical Patriarch said in the letter.
"Conveying to Your Excellency our wholehearted congratulations, we invoke upon you the grace and endless mercy of God, praying for your health, strength and fortitude, and we remain with the highest honor and esteem," reads the letter.