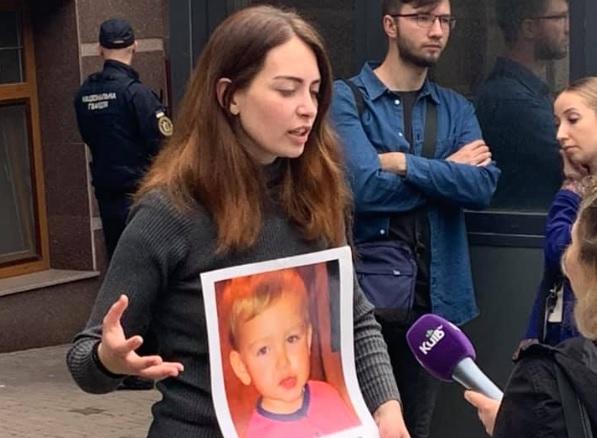 The mother claims she and the child legally returned to Ukraine / Photo from rbc.ua
Ukraine's Ministry of Foreign Affairs is working to settle a Ukrainian-Danish child custody dispute.
"A young Ukrainian citizen, Daniel, held in the territory of the Embassy of Denmark, has already been examined by the doctor – everything is good with the child. Soon, the mother's lawyer will be provided with an official medical report. We are actively working with the Danish side to finally resolve the situation," Deputy Minister for Foreign Affairs of Ukraine Yehor Bozhok said on Twitter on May 10.
Earlier, Ukraine's Foreign Minister Pavlo Klimkin asked his Danish counterpart Anders Samuelsen to help settle a dispute between Ukrainian mother Anastasiya Malapura, a resident of Zaporizhia, and a citizen of Denmark, Jan Mogensen, who allegedly took the two-year child away without the mother's consent.
Read alsoCabinet endorses draft presidential decree on Father's Day in Ukraine
The child is reportedly in the Danish Embassy's building now.
Daniel's mother claims that her son was abducted by her ex-husband, a Danish citizen, from Zaporizhia on May 2. According to the mother, unknown men kidnapped the boy when the boy was walking with his grandmother, and the old woman was beaten.
Later it became known that the boy was being held in the Danish Embassy's building in Kyiv. The mother claims that she broke up with her ex-husband, and she and the child legally returned to Ukraine. She is categorically against her son's going abroad.