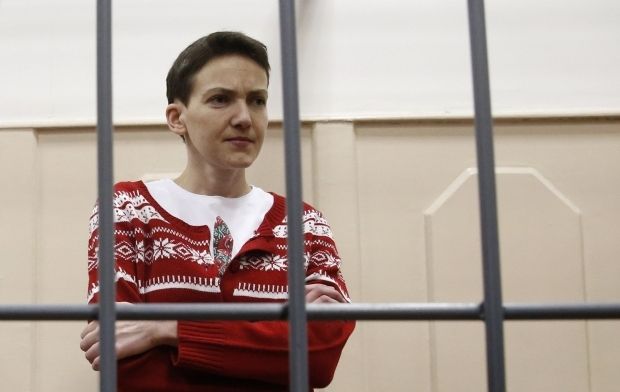 REUTERS
A letter from Savchenko announcing the resumption of her protest was posted by Russian translator and journalist Natalia Mavlevich on her Facebook page on Monday.
"From March 16, after a ten-day break, I'm on hunger strike again. And, this time, to a victorious end!!!" the letter says.
As UNIAN reported earlier, Savchenko was abducted by Russian-backed militants in the Donbas in the summer of 2014, and then taken to Russia, where she was charged with being involved in the death of Russian journalists. She was also charged with illegally crossing into Russia.
On October 26, during the early parliamentary elections in Ukraine, Savchenko was elected as an MP from the Batkivshyna Party. The Verkhovna Rada made Savchenko a member of the Ukrainian delegation to the Parliamentary Assembly of the Council of Europe.
The Rada has called on international organizations and inter-parliamentary assemblies to make efforts to free Savchenko.
Savchenko went on hunger strike on December 15 in protest at being denied medicines she required. She is now demanding that she be released from jail and placed in another form of detention pending her trial. In early March, her state of health deteriorated.
On March 5, Russia's Federal Penitentiary Service reported that Savchenko hadn't abandon her hunger strike, but had agreed to drink chicken broth to maintain her state of health.
Mark Feygin, her lawyer, said that she ended her hunger strike on the recommendations of Ukrainian doctors and had refused to drink the chicken broth. He said that the lawyers had brought her a special meal.
On March 11, Savchenko's lawyer said that her state of health didn't improve after she partially gave up her hunger strike.
On March 14, Savchenko was visited by Ukrainian doctors who said that she was in a satisfactory condition, and there was no threat to her life at the moment.