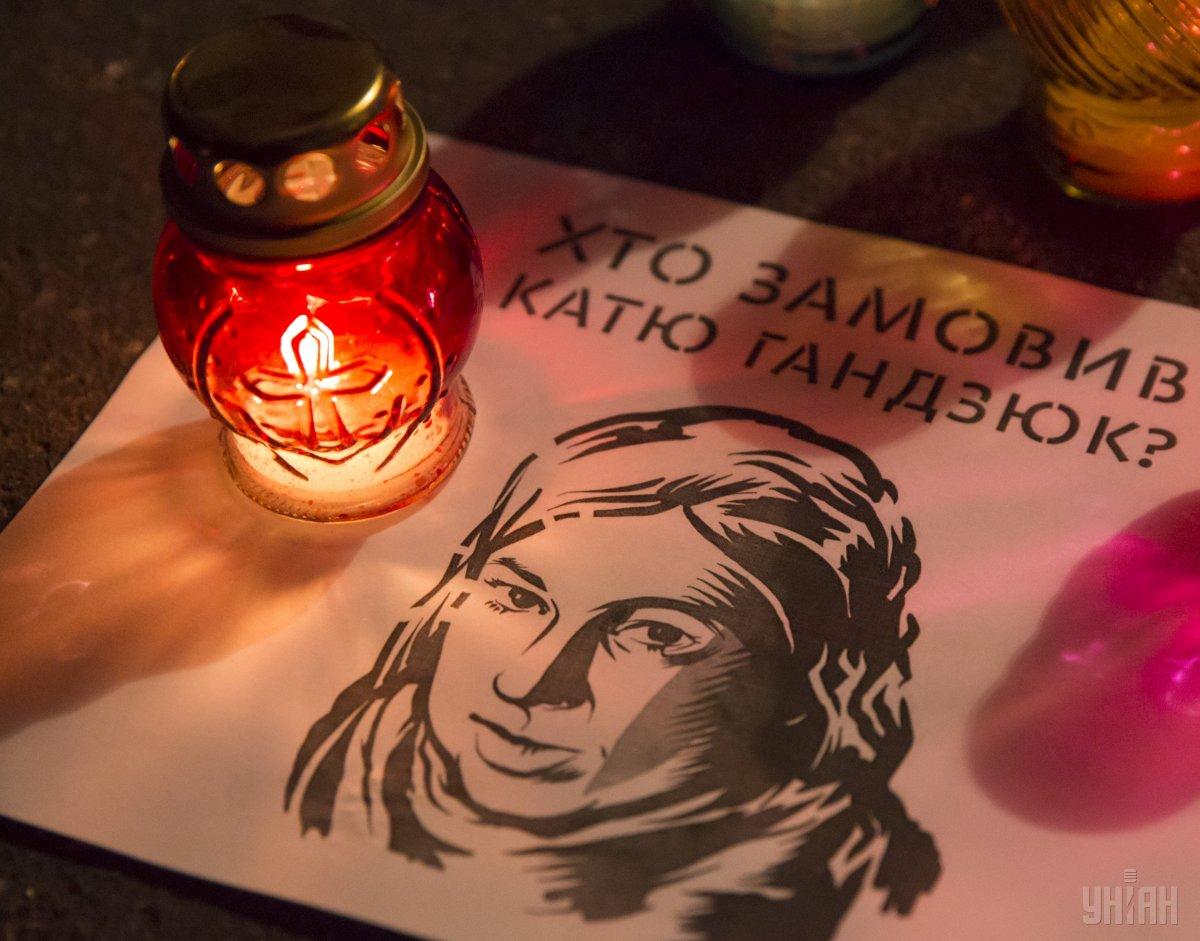 Photo from UNIAN
Dnipropetrovsk region's Pokrovsky district court on June 6 delivered verdicts on all five suspects in the case of Kherson activist, official of Kherson City Council Kateryna Handziuk's murder.
The verdicts were announced during a court session on June 6, according to an UNIAN correspondent.
While making its decisions, the court took into account the sincere repentance of the accused and their positive characteristics.
Read alsoAnkle monitor again put on Kherson official suspected of ordering assassination of activist Handziuk
In particular, the organizer of the execution of the attempted murder on Handziuk, Serhiy Torbin, was sentenced to six years and six months in prison. The actual perpetrator of the crime, Mykyta Hrabchuk, will stay in prison for six years.
Volodymyr Vasyanovych and Viktor Horbunov, accused of aiding the commission of the crime, were sentenced to four and three years in prison, respectively.
In addition, the accomplice of the crime, Vyacheslav Vyshnevsky, will be imprisoned four years.
UNIAN memo. Kherson activist, adviser to the Mayor of Kherson and acting manager of affairs at Kherson City Council's executive committee Kateryna Handziuk, 33, on July 31, 2018, survived an act of acid throwing. She suffered burns to more than 35% of her body and underwent 11 operations in Kyiv. Handziuk died on November 4, 2018. The immediate cause of her death was a severed blood clot resulting from the acid attack.
Six suspects were detained, one of whom, Mykola Novikov, was later released from custody as charges against him were dropped.
On May 7, the Prosecutor General's Office of Ukraine sent an indictment against five suspects – Hrabchuk, Vasyanovych, Vyshnevsky, Torbin, and Horbunov – to court.
The indictment against five defendants was sent to Kherson city court. Later, the Supreme Court satisfied prosecutors' petition to transfer the criminal case to Pokrovsky district court in Dnipropetrovsk region.
Previously convicted citizen Oleksiy Levin, Chairman of Kherson Regional Council Vladyslav Manger and Ihor Pavlovsky, the then assistant to MP from the Bloc of Petro Poroshenko Party Mykola Palamarchuk, are also involved in the Handziuk case.