National Guard forces sent to Dnipropetrovsk region 'due to possible riots'
Additional forces of the National Guard of Ukraine have been sent to Dnipropetrovsk region from the frontline in the Donbas conflict zone, Ukrainian news broadcaster TSN reported on Friday.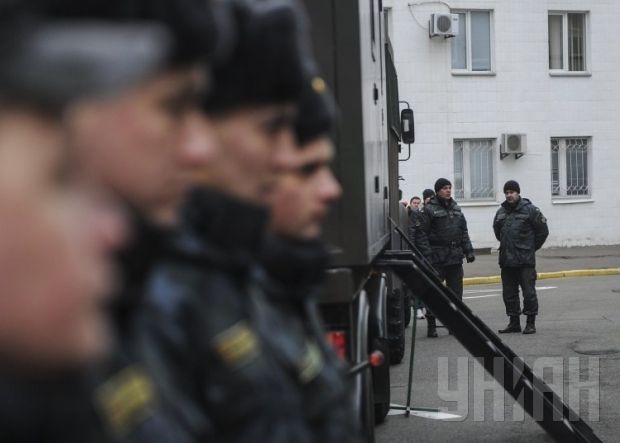 UNIAN
According to the report, the measures were taken in connection with possible riots in the region because of the information about the possible resignation of the head of the Dnipropetrovsk Regional State Administration Ihor Kolomoiskiy.
In addition, there is information that during the talks of the leaders of "Normandy Four" countries in Minsk last month, Russian President Vladimir Putin demanded the resignation of Kolomoiskiy. The information is being clarified now.
As UNIAN reported earlier, on March 19 the company's supervisory board dismissed Oleksandr Lazorko from his duties as Chairman of the Board of Ukrtransnafta. In addition, the same day at the office of Ukrtransnafta there were talks on the legality of changing the head of the company.
According to Kolomoiskiy, neither the Cabinet of Ministers nor the Administration of the President or other authorities took a decision to dismiss the head of Ukrtransnafta.
As the Ukrainian newspaper Ukrainska Pravda reported on Friday, the head of the Dnipropetrovsk Regional State Administration, the oligarch Ihor Kolomoiskiy accused the president's entourage of raiding of the office of Ukrtransnafta.
He arrived in the office of Ukrtransnafta on Thursday in the evening accompanied by armed men. After six hours in the office, around midnight, Kolomoiskiy left .
"When I came to the building of Ukrtransnafta, I saw nobody there. And then the representatives of the government and security services arrived there," he told journalists.
"Everything is all right in Ukrtransnafta, and the representatives of the SBU have nothing to do there," Kolomoiskiy said.
"Yuriy Miroshnykov, who is the acting head of the Board of Ukrtransnafta from March 19, has appointed himself on this post," he said.
"I took the documents in the office of Ukrtransnafta and now I'm going to the presidential administration to deal with this situation," Kolomoiskiy said.
If you see a spelling error on our site, select it and press Ctrl+Enter