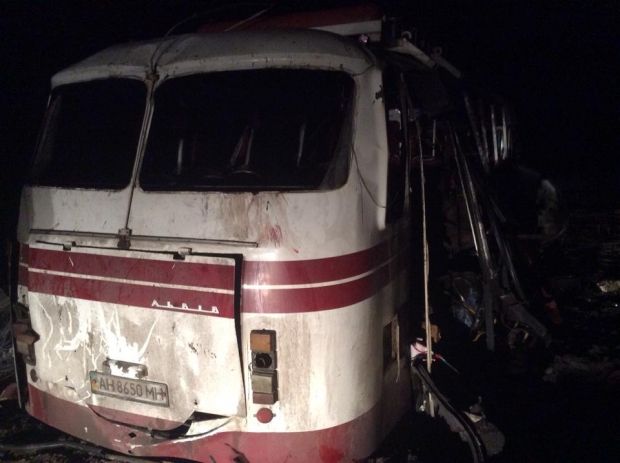 Three dead, nine injured in a landmine blast / Photo from facebook.com/kivailya
A passenger bus with 26 people on board has got into a landmine trap outside the separatist-held town of Horlivka.
This information was confirmed by chief of the Ukrainian Interior Ministry's main department in Donetsk region Viacheslav Abroskin on his Facebook page.
"At 2030 Kyiv time on Wednesday Artemivsk police have received a call informing that a passenger bus heading from Artemivsk to Horlvika had tripped a landmine in the field near the town of Mayorsk," he wrote.
According to him, a preliminary report says that the bus driver decided to bypass a roadblock and was driving along an earthy track towards Horlivka.
"Driving across the field, the bus struck a landmine with its backward wheel. As of now, the death toll is three people. The total number of the bus passengers is 26 people. <…> Police officers from the Artemivsk police department are now working on the scene," he wrote.
Deputy chief of the Ukrainian Interior Ministry's regional branch in Donetsk region Ilya Kiva wrote on his Facebook page that six passengers had been severely injured.
Donetsk Regional State Administration's press service in turn reported that nine injured passengers were on their way to hospital.