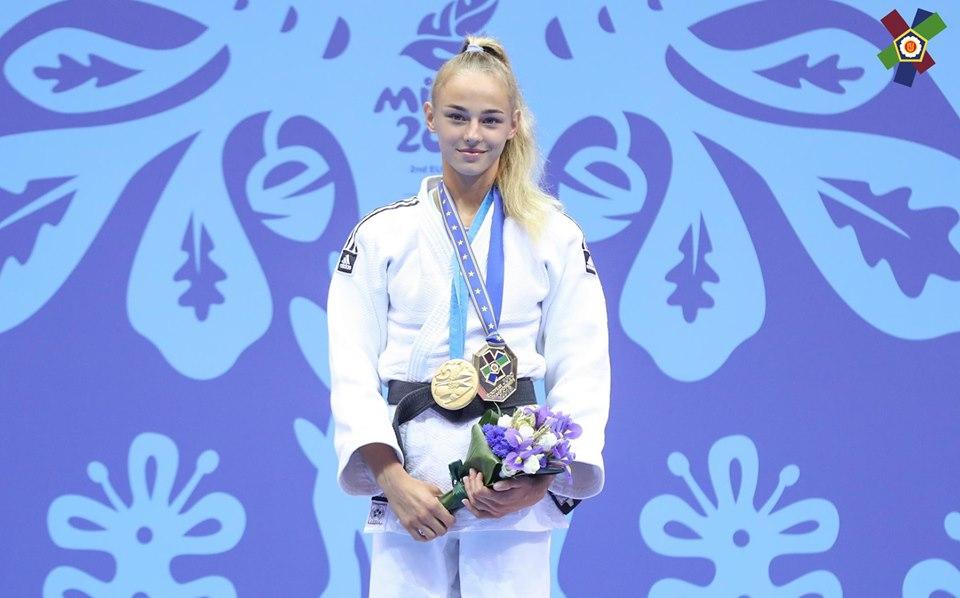 Daria Bilodid won a gold medal in a judo competition / facebook.com/olympic.ua
Ukrainian athletes have won 51 medals, including 16 gold medals, 17 silver medals and 18 bronze medals during the 2019 European Games in Minsk held from June 21 to June 30, having brought Ukraine to the third place after Russia (109: 44, 23, 42) and Belarus (69: 24, 16, 29).
In total, athletes from 50 countries participated in 23 sports events, 200 sets of medals were awarded, according to the official website.
Ukraine was represented by 198 athletes in all fifteen sports and twenty-two sports events.
Read alsoBoxer Takam to Ukraine's Usyk: "I'm waiting for you in September" – media
Italy ranked fourth, the Netherlands was fifth, followed by Germany, Georgia and France. The United Kingdom came ninth and Azerbaijan was 10th.
Ukraine's gold medals
Georgii Zantaraia – judo, 66 kg
Daria Bilodid – judo, 48 kg
Anastasiia Sapsai – sambo, 80 kg
The national team of Ukraine (Danylo Danylenko, Anna Ryzhykova, Tatiana Melnyk, Oleksiy Pozdnyakov) – athletics, 4x400m mixed relay
The national team of Ukraine (Yevhen Hutsol, Olha Lyakhova, Yana Kachur, Oleksiy Pozdnyakov) – athletics, mixed medley relay
Mariya Povkh and Liudmyla Kuklinovska – rowing and canoe sprint, kayak double, 200m
Ganna Solove – cycling – track, 25 km
Yuliia Tkach – freestyle wrestling, 62 kg
The national team of Ukraine – athletics, team competition
Viktor Vykhryst – boxing, heavyweight
Zhan Beleniuk – Greco-Roman wrestling, 87 kg
Oleksandr Khyzhniak – boxing, 75 kg
Oleg Verniaev – artistic gymnastics, uneven bars
Anastasia Bachynska – artistic gymnastics, floor exercise
Anita Serogina – Karate, Kumite, 61 kg
Stanislav Horuna – Karate, Kumite, 75 kg.