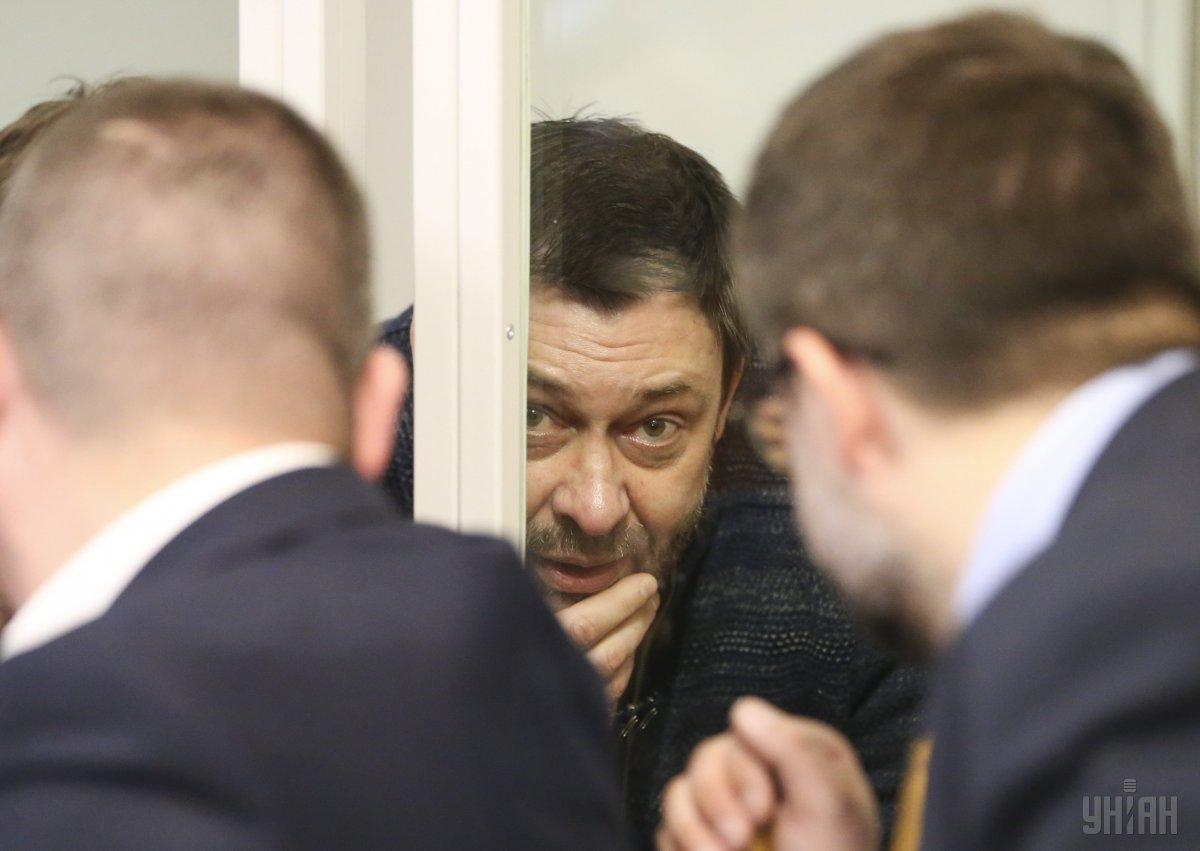 Photo from UNIAN
Another court hearing in the case of Kirill Vyshinsky, chief of the Russian RIA Novosti's Kyiv office, who has been charged with treason and held in custody since May 15, 2018, will be held in Kyiv today, July 15.
Many admit that Vyshinsky could be released from custody as a result of the recent move by the Constitutional Court to allow alternative measures of restraint, other than custody remand, to be applied to suspects in grave and especially grave crimes, according to Information Resistance (IR), a Ukrainian non-governmental project on information security.
"Pro-Kremlin forces in Ukraine will certainly try to exploit such developments and 'play' a game of destabilization. Many experts have been warning of such scenario," IR said.
"Today at 16:15, the court will consider the case of a citizen of Ukraine who received the medal 'For the return of Crimea' from the defense minister of the aggressor state, which is responsible for 13,000 lives lost over the past five years. Following the latest provocations aimed at destabilizing Ukraine ahead of the elections, today we're seeing another threat of a picture of violent actions that could be set up for the media," Deputy Minister of Information Policy Dmytro Zolotukhin wrote on Facebook.
Read alsoVyshinsky trial: RIA Novosti Ukraine articles "propaganda," aimed against Ukraine's statehood, experts confirm
According to him, if the court decides to release Vyshinsky from custody, some "radicals" might appear who would "attack" the court headquarters overnight using a grenade launcher or a Molotov cocktail.
At the same time, Larys Sargan, spokesperson for Ukraine's prosecutor general suggests Vyshinsky is very important for Vladimir Putin: "He means more to Putin than all Ukrainian prisoners of war. That is why Vyshinsky alone could be exchanged for 24 Ukrainian POW sailors," she wrote on Facebook.
As reported earlier, a grenade hit at the wall of the 112 Ukraine TV channel, associated with pro-Russian politician Viktor Medvedchuk, which is being investigated by as a terrorist act and has been condemned by the OSCE's freedom of speech watchdog, brought minimal damage and caused no casualties.
"It's always like that with staged hits or arson attacks by 'Ukrainian radicals' intended to create 'breaking news' for Russian media," IR chief editor Yuriy Karin said.