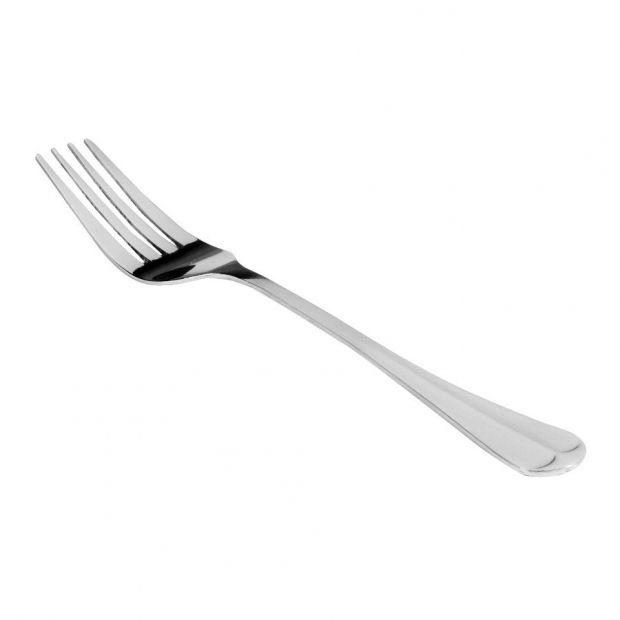 A traditional four-prong fork yesterday / Photo from www.webstaurantstore.com
Measures being drafted in the Economy Ministry would encourage the country's cutlery manufacturers to change their fork designs.
"Cutting the prong numbers from four to three is a simple and immediate way to cut fork prong costs by 25%," said Ihor Shutka, speaking on behalf of the ministry.
"And the three-prong fork is also a patriotic symbol, so Ukrainians can save resources and express their love of their country in this time of economic hardship and war," he said.
But the ministry's plans have already prodded some into opposition. According to Olena Tryzub, of Ukraine's Cutlery Industry Association, the savings from ditching the fourth prong on forks would be insignificant compared to the overall size of the cutlery item, meaning fork prices for Ukrainians would be virtually unchanged.
"There are also genuine worries that the ministry's fork plans might have an effect on consumption in the country," Tryzub said.
In addition to its proposals for the cutlery industry, the ministry also has also worked out ways for Ukrainians to start economizing on forks in the home.
"Old-style aluminum forks can easily be altered by the general public at home, as the metal is soft enough for you to be able to break off one of the prongs yourself," Shutka said.
"The broken-off prong could then easily be taken for aluminum recycling, further helping the economy, probably," he said.
However, Tryzub cautioned members of the public against trying to modify common stainless steel forks by themselves, as this could cause injury and should only be attempted by a cutlery specialist, she said.
If the plans pass through ministry scrutiny, a full set of proposals are to be released on April 2, the ministry's Shutka said.