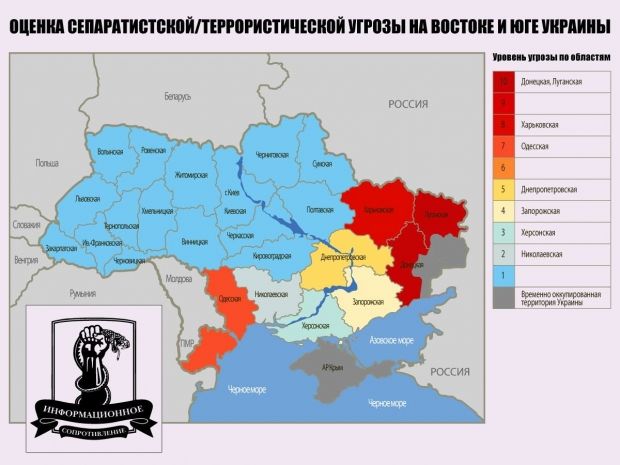 Graphic from sprotyv.info
The situation in Kharkiv is of particular concern to the group's analysts, Tymchuk said.
"This is due to the fact that the region is in a state of heightened danger and could become a testing ground for Moscow's model of non-military destabilization, which will cause a chain reaction throughout the eastern and southern Ukraine," the group said in a statement.
The experts said that with the destabilization of Kharkiv region, Russia may want to "undermine" a significant part of Ukraine.
"We should understand that allowing the destabilization of the situation in Kharkiv region would mean the start of a domino effect and would bring about changes in the balance of the whole of Ukraine's left bank [or the part of Ukraine east of the River Dnipro.]
"That would be the additional stimulus for pro-Russian groups in nearby Dnipropetrovsk and Zaporizhzhia, which would jeopardize all the logistics of the Anti-Terrorist Operation."
The whole Black Sea area will also be under threat, the Information Resistance Group's analysts said in their report.
The Information Resistance Group was formed by Tymchuk in the wake of Russia's intervention in Ukraine and annexation of Crimea. The group provides regular reports on information it collects on the situation in the Russian-backed militant-controlled parts of Ukraine.