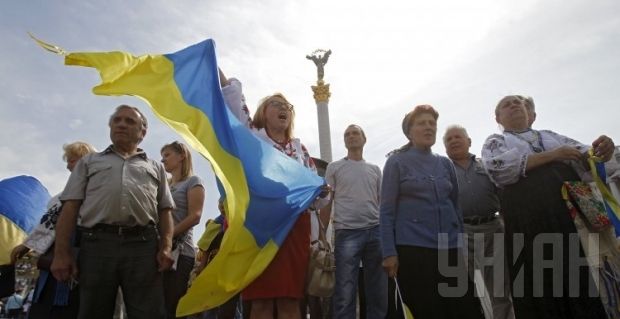 Almost half of Ukrainians want separatists to be stripped of Ukrainian citizenship / Photo from UNIAN
The majority of those polled (48.6%) support the idea that the citizens of Ukraine who have supported Russian aggression against Ukraine, the annexation of Crimea, the separatist movement in the country's east and south should be stripped of Ukrainian citizenship.
These are results of a public opinion poll conducted by the Razumkov Center, which was examining how Ukrainian citizens evaluate the situation in Donbas.
However, 33% of the respondents do not share this opinion.
If split geographically, the absolute majority of residents from the country's west (77.4%) and the center (56%) support this idea, while 50% of Donbas residents reject it.
However, there is no unanimity in Ukrainian society in the assessment of the current results of the Minsk agreements.
The positive assessment of the peace accords was given by 34% of those polled, while 22.2% claim they are dissatisfied with the Minsk agreements, while 25.5% remain neutral. The remaining respondents hesitated to answer or did not know about these agreements.
The poll was conducted by the Razumkov center from March 6 to March 12, 2015. A total of 2,009 people aged from 18 were questioned in all Ukrainian regions, except in Crimea, and in occupied territories in Donetsk and Luhansk regions.
The sample of the survey was constructed as a multi-stage, random with quota selection of respondents at the last stage.
The poll's margin of error, excluding design effects, is no more than 2.3% with a probability of 0.95.
The poll was conducted with the support of the Swedish government.