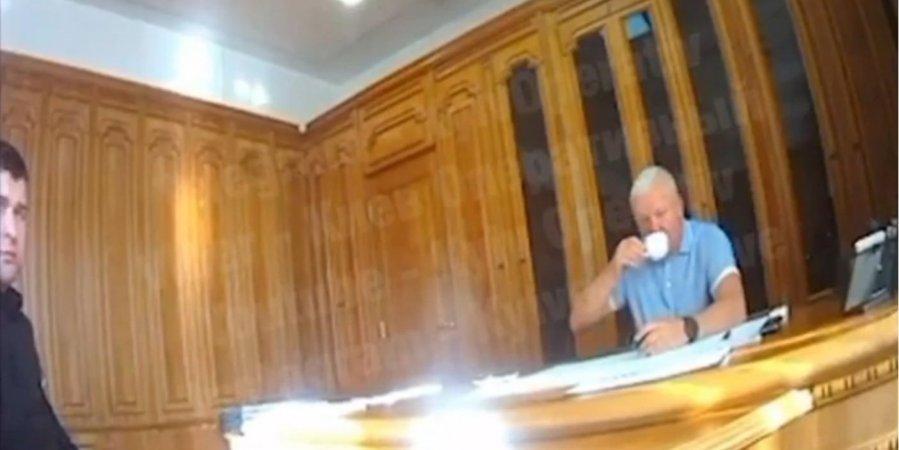 A bodycam video that captured an incident involving a driver of chief of Dnipropetrovsk region's Police Department Gen. Vitaliy Hluhoveria and patrol police officers who stopped the general's car for a traffic violation has gone viral in Ukraine in recent days.
The video shows the cops acting according to protocol, set to file administrative charges against the general's driver who apparently violated traffic rules, while the latter tries to give the officers a not-so-concealed hint that the general's car cannot be stopped. Confronted with the fact that the cops stick to the law, the driver calls someone on his phone and soon, a "KORD" team (police SWAT unit), arrive at the scene and apprehend the "disobedient" patrol police officers at gunpoint.
The police officers were then brought to Hluhoveria's office for questioning.
Sources say the incident took place in September last year but has been concealed by law enforcers since then until the bodycam video was leaked to mass media, Strana.ua reported.
After the video was published, the State Bureau of Investigation launched an investigation probing Hluhoveria's possible abuse of power.
Amid public outrage caused by the arbitrary actions of the police general, Ukrainian President Volodymyr Zelensky delivered a harsh response to the incident.
"In a modern world, nothing can be concealed," reads Zelensky's statement posted on Facebook.
The president added that he was shocked by "cynicism of representatives of the old elite who are actually sure that they live above the law".
"I demand that Interior Minister Arsen Avakov immediately dismiss Mr Hluhoveria from the occupied position, and I expect from SBI chief Roman Truba a swift and uncompromising investigation into the published video.
"I'd like to warn all officials in Kyiv and across the country – from regional centers to smallest villages – that the times of impunity and special treatment you've grown accustomed to throughout the periods of former presidents' rule, are gone for good," he wrote. "Neither you nor your friends will be above the law anymore. Rejoice if you bear responsibility you deserve in line with the law, which I promise will come upon you. Otherwise, the people will exercise its right of a sovereign in its own land, and you will become outlaws."
"The president called upon corrupt officials to either "write guilty pleas, resign, or flee".
"The only thing I would definitely not recommend that you do is to continue testing the country with your brazen behavior. The country and the people are tougher than you all. They will prevail – you will vanish," Zelensky concluded.