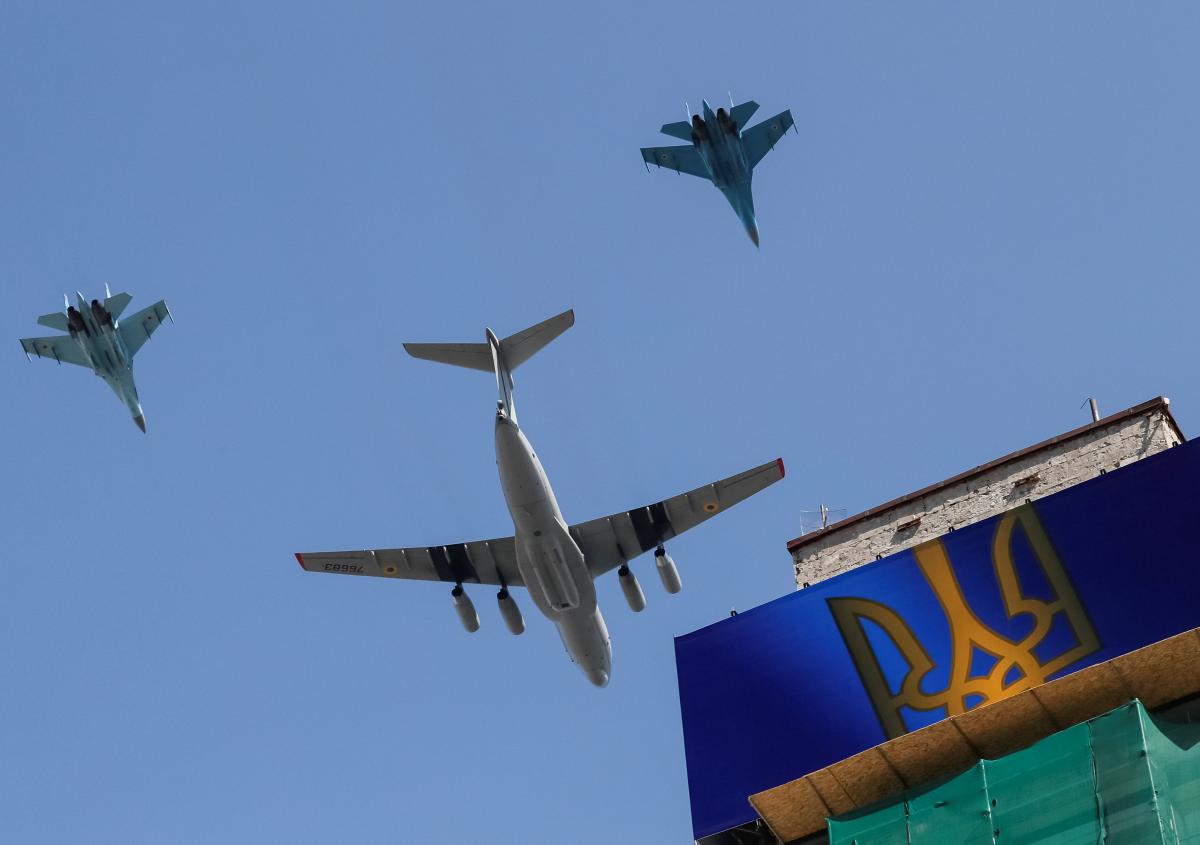 REUTERS
Ukraine marks Air Force Day, and the country's leaders – President Volodymyr Zelensky and Prime Minister Volodymyr Groysman – have greeted active members of the Air Force of the Armed Forces of Ukraine and veterans.
"This is a special day for courageous people who guard the country's airspace day and night, carry out combat and training flights in difficult conditions, skillfully and promptly transfer military personnel, weapons and equipment by air to remote destinations," Zelensky said in his greeting message posted on his official website.
Read alsoUkraine's Naval Air Force completes drills over Black Sea (Photo)
Zelensky thanked military pilots for hard work, courage and determination demonstrated in carrying out the assigned tasks.
The president says he is convinced that their high professionalism and responsibility will help maintain peace in Ukraine, and Ukrainians will reliably be protected.
Groysman, in turn, expressed sincere gratitude to all military personnel and civilian personnel of the Air Force for their decent service, dedication and professionalism.
"To increase the combat potential, military and technical level of the military air force and air defense is a key task for the entire state, as strengthening defense capabilities and reliable protection of the airspace of Ukraine depend on this. The professional and efficient Air Force is capable of countering the aggressor's intentions to carry out large-scale offensive operations," Groysman said.
Groysman also recalled that Ukrainian military pilots had become winners of the Royal International Air Tattoo (RIAT), one of the largest world air shows in the UK, this year.
The country's leaders wished all members of the Air Force professional growth, good health, prosperity, and most importantly – a peaceful sky over Ukraine.
The commander of Ukraine's Joint Forces, Lieutenant General Oleksandr Syrsky, was also among those high-ranking officials who congratulated military pilots on their day.
"Dear servicemen, veterans and all who dedicate their life to the Air Force of the Armed Forces of Ukraine, we sincerely congratulate you on your professional holiday! This day is a symbol of the unbreakable bond of many generations of courageous people who belong to the elite of the Armed Forces of Ukraine. You are the embodiment of honor, valor and fidelity, and your exploits have earned great respect of the Ukrainian people, guaranteeing the security and inviolability of the air borders of our country," says his congratulations posted on the Joint Forces Operation's Facebook page.
Under a presidential decree dated July 27, 2007, Air Force Day is marked in Ukraine on the first Sunday of August.