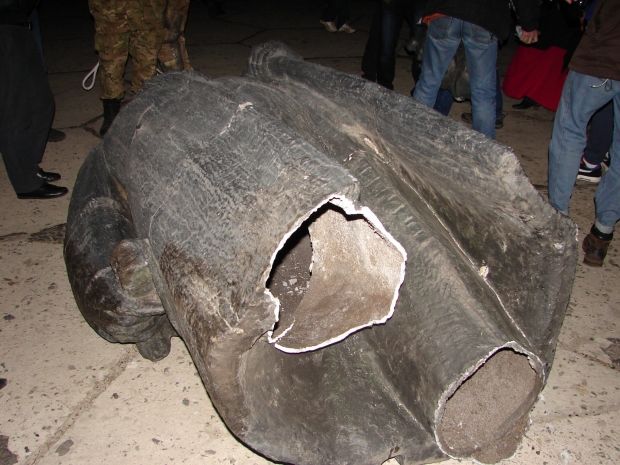 Photo from online newspaper Litsa
According to the report, about 15 people toppled the statue of the Communist leader in less than an hour, using a rope and an UAZ off-road vehicle.
The activists set up a Ukrainian flag in place of the statue.
This is the third such statue to be removed in the city in the past year or so: A large memorial to Lenin was earlier removed, this time by the city authorities, on June 27 last year. Workers used a crane to hoist a massive stone Lenin head off its plinth, and the head was then transported to a local museum.
Before that, on the night of February 21-22, a statue of Lenin on Dnipropetrovsk's central square met a less dignified fate when it was torn down and hacked to pieces by pro-Ukrainian activists.
Ukraine has seen a spate of Lenin statue toppling since last year's ouster of the pro-Russian former Ukrainian President Viktor Yanukovych, and Russia's subsequent annexation of the Ukrainian territory of Crimea and fomenting of an anti-government insurgency in the east of the country.
In other incidents, Lenin statues have been daubed with paint in Ukraine's blue and yellow national colors, or dressed in traditional vyshyvanka embroidered shirts.
Photo from Litsa