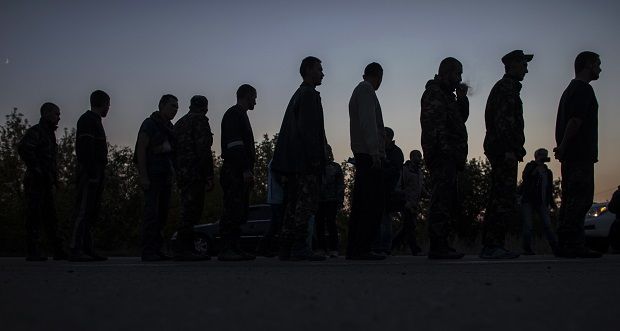 REUTERS
"We know where our soldiers are, despite the fact that the other party says that those 16 soldiers that we took last week were the last ones," he said.
"There is evidence of the captivity of our soldiers on the territory of a neighboring state. We know the places where our guys are. These are border regions, regional centers, in addition to Moscow and St. Petersburg, Rostov and Kursk, where we have seen the traces of our guys. I think that soon we will know definitely if prisoners have been taken to Crimea or not," Tandyt said.
According to Tandyt, the Defense Ministry knows that about 300 people are still being held captive by the militants.
"Despite the fact that we have released more than 2,500 people, the volunteers, the Ministry of Defense and Ukraine's SBU security service are helping with the release of these 300 people," he said.
"The Ukrainian side has prepared several groups of militants and we are ready to send them to the other side at any time," Tandyt said.
"The LPR and DPR [militant organizations] have some officials who are intervening to renew this process now. We hope that Russia, as a participant of the Minsk agreements, will contribute to further implementation of these agreements, not only on the withdrawal of heavy weapons, but also on the release of prisoners," he said.
As reported earlier, the Donetsk People's Republic said they did not plan to exchange prisoners in the coming days.
According to Daria Morozova, the person in charge of the exchange of prisoners held by the militant organizations, the DPR is no longer holding any Ukrainian soldiers captive.